Madhya Pradesh Wildlife: The Heritage heartland of India, Madhya Pradesh, is one of those states rich in forest resources, biodiversity, wild flora and fauna. Being the Central Province of India, Madhya Pradesh is blessed by nature and is encountered by wild animals. 
Retaining landmarks from eras throughout Indian History, Madhya Pradesh is known as the Heart of Incredible India. Being the Tiger State of India, Madhya Pradesh has 12 national parks and 30 wildlife sanctuaries, making it the heart of wildlife in India. 
India is endowed with vibrant wildlife, making it one of the top priorities for the government of India to protect it, to maintain the ecological balance throughout the country. For avid nature lovers, Madhya Pradesh is one of the most promising states in India, where there are high chances of spotting tigers. Around 4% of the land in Madhya Pradesh is spread in forests. 
Harbouring some of the most exotic animals on Earth, India offers an array of unparalleled wildlife safari experiences with a diverse range of birds and animal life. 
Cheetah Reintroduction in India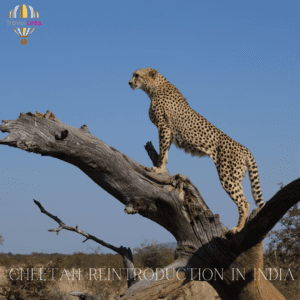 With the initiative of Modi's government to double down the number of tigers in India in the last tenure, the government has been able to reach its goal even before the expected timeline and has started its new initiative to double down the number of cheetahs in India, and especially in Madhya Pradesh in the coming five years. 
As a result of this initiative, eight cheetahs have arrived in India from Namibia, making it the first intercontinental large carnivore translocation project. The arrival has taken place in Madhya Pradesh's Kuno National Park. The species that got extinct in India, primarily in 1952, has arrived in a national park established in 1981 as a wildlife sanctuary with an area of over 340 square kilometres. 
Over the first decade of the 21st century, villagers were moved outside the forest area, and a buffer of about 1000 square kilometres was added to the wildlife sanctuary, making it a possible destination and a habitat to reintroduce cheetahs in the area. 
Not only the cheetah sightseeing or lion safari, but the national park also attracts tourists for birdwatching. Various birds found in this sanctuary are Honey Badger, Ruddy Mongoose, Indian Gray Mongoose, Indian Hare, etc. 
Other than the project by the central government, there are around 31 approved infrastructure projects to go through wildlife havens in Madhya Pradesh. 
1. Bandhavgarh National Park: Madhya Pradesh
Wildlife 
Situated in the Vindhya Hills, Bandhavgarh National Park is one of India's most visited national parks and one of the top places to visit in Madhya Pradesh. Covering an area of about 1500 sq kilometres, this national park has the highest density of the Royal Bengal Tigers in India. 
Other mammals spotted in the national park are Common Langurs, Jungle Cat, Bengal Fox, Sloth Bear, Ratel and many more. A wildlife retreat in the lap of nature, Bandhavgarh National Park is a rejuvenating paradise as an escape into wildlife. October to June is the best time to visit the national park, as one cannot see it during monsoon months.  
2. Kanha Kisli National Park:
Madhya Pradesh
Wildlife
Located in the Mandla and Balaghat Districts of Madhya Pradesh, Kanha Kisli National Park is another go-to wildlife sanctuary situated in Madhya Pradesh. Spread over 940 sq kilometres, it is one of the largest national parks in the state. 
This national park was one of the first reserves to work on Project Tiger and was established as a sanctuary in 1933 and declared a national park in 1955 and a tiger reserve in 1973. 
This is one of the best places to experience the wildlife of India, as with the wintery feel of the jungle, there are various rare sightings for tourists. 
Besides the national parks, various wildlife sanctuaries in Madhya Pradesh come under the government's conservation projects. 
Top National Parks: Madhya Pradesh
Wildlife 
1. Nauradehi Wildlife Sanctuary 
The largest wildlife sanctuary of Madhya Pradesh, Nauradehi Wildlife, covers about 1200 sq kilometres of the state. Spanning across four districts of Raisen, Narsinghpur, Damoh and Sagar, this sanctuary is home to various species of birds and animals. 
One can spot Bengal Tigers, Striped Hyena, Bengal Fox, Golden Jackals, Indian Leopard, Nilgai, and many more, making it an ideal spot for animal lovers. The best time to visit the park is from November to June. 
2. Orchha Wildlife Sanctuary 
Another national park situated on the banks of the Betwa River, Orchha Wildlife Sanctuary, is one of the top wildlife sanctuaries to visit in India. Home to several animals like leopards, tigers, and sloth bears, the sanctuary is a haven for bird watchers. 
An ideal place for adventure enthusiasts, and birdwatchers, this national park is another top place to visit in Madhya Pradesh. 
FAQs about Madhya Pradesh
Wildlife 
Q1. What are the top Wildlife Sanctuaries of Madhya Pradesh? 
The top Wildlife Sanctuaries of Madhya Pradesh are Bagdara Sanctuary, Karera Sanctuary, Bori Wildlife Sanctuary, Kheoni Narsinghgarh Sanctuary, and Gandhi Sagar Sanctuary. 
Q2. What is the ideal time to visit Madhya Pradesh Wildlife? 
The ideal time to visit Madhya Pradesh Wildlife is through the winter months. 
Q3. What other activities can the tourists experience while travelling to wildlife sanctuaries in Madhya Pradesh? 
Various other adventurous activities include trekking, bird watching, and bonfire. 
Q4. What flora and fauna can one experience while on their trip to Madhya Pradesh? 
Tourists can encounter various animals: Chital, Monkey, Blackbuck, Wolf, Wild Boar, Salai, and many more.