Kiribati Islands is for travelers – those who have a desire for exploring and discovering those who like an escapade off the tourist trail to places where few have been before, and those who want to understand a country – not just see it. Kiribati will test your view of how life should be and show you a less complex way of living where family and community come first.
Located in the equatorial pacific, and isolated from the rest of the world this place is one of the corona free places. Sounds promising right.
In east Kiribati propound world-class fishing from Kiritimati Island. Gilbert Group of islands located in the west offers amazing and exclusive cultural experiences. The country's capital of Tarawa has momentous sites and artifacts were one of the goriest battles of World War II, the Battle of Tarawa. These are the few things visitors must do when they plan to travel Post Pandemic to Kiribati 
Fishing Holidays:
Kiribati is famous for its world-class seawater fly fishing targeting bonefish and giant trevally. Bonefish and giant trevally come in huge figures with plenty of chances to catch double-digit catch on a fly. Anglers can catch & release anywhere from 10 to 30 bonefish a day is the rule, not the exclusion and just add to it giant trevally or two. In fly fishing, fish are caught by using fake flies that are cast with a fly-fishing rod and a fly line.  A fishing license is $50 per head and private boats are easily available.
Cultural Experience & Outer Island Adventure Holidays:
Experience the exclusive Kiribati Culture and explore the natural beauty of our islands while taking a quest in North Tarawa or in the outer islands of the Gilbert Islands group.  Seclusion and serenity are the focus of outer island experience. Here visitors discover and experience the traditional way of life on the outer islands, learn and join in sightseeing, fishing, dancing, local sports, feasts, canoe riding and sleep in old-style housing. Traditional outrigger canoe races and traditional dancing contests are a must-see while visiting Kiribati.  
Surfing in Fanning and Kiritimati Island:
Fanning Island (Tabuaeran) and Kiritimati Island are the best places for surfing in Kiribati. On the other hand, Kiritimati also has a golden five-kilometer stretch of points, reefs, and channels between London village and Paris points. Surfing in Kiribati makes a difference with other surfing destinations because here you own your surf and you do not have to yell at any surfer or swimmer in the water in front of you.  Simply saying, you do not have to worry about crowds on Fanning and Kiritimati island, there are none; "Your Wave, Your Surf, No crowds."
Birdwatching & Wildlife Tours:
Bird watching, and wildlife tours are common activities in the Line Islands and Phoenix Islands Protected Area of Kiribati.  These areas are nesting grounds for an abundant and diverse population of tropical birds, turtles, coconut crabs, and marine life. Wide-ranging populations of birdlife are found on these include shearwater, petrel, tropicbirds, frigate birds, terns, noddies, lorikeet parrot, and Christmas Island's very own warbler, found only on Kiritimati Island.  Manta Ray schools' encounters are one of the wildlife charms you can encounter in Kiritimati Island lagoon.  In the water these sea creatures look like a slick of oil on the water surface.  A tour of the lagoon on a boat or while snorkeling gives you the opportunity to get close with these creatures.  Turtle nesting is also common on these islands.
WWII Battlefield tours and Commemoration Events:
Reconnoiter the Battle of Tarawa and the Battle of Makin in the Gilbert Islands or join Commemorative events on the 20th of November.  The aftermath of World War II left blemishes of the battle between American and Japanese forces. On the island Betio in the capital Tarawa atoll and Butaritari atoll – war relics have become attractions for tourists to observe and to learn the history of the WWII battles on these islands.
Cruising Kiribati:
Kiribati is open to interest small to medium scale cruises who would like to explore islands, its culture, its marine life, and enjoy shore excursion activities.  Famous cruise destinations in Kiribati are Fanning Island and Kiritimati Island in the Northern Line Islands; the Southern Line Islands and Kanton Island in the Phoenix Islands Protected Area.
Diving & Snorkeling: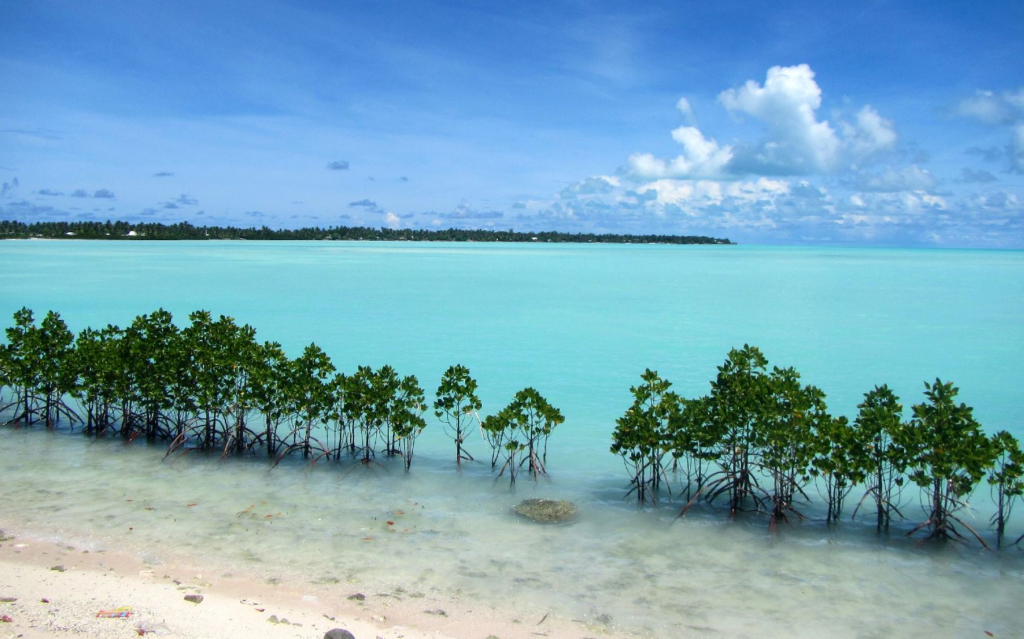 The immense waters adjacent to the islands of Kiribati offers great diving possibilities and snorkeling opportunities to explore whole coral ecosystems and the rich underwater life.  Destinations like the Southern Line Islands and the Phoenix Islands Protected Area have huge potentials for private dive cruise explorations. These areas are one of the most untouched places in the ocean. At these islands you can see the rich marine life while snorkeling or diving and explore the bottomless oceans with remotely operated vehicles. 
Let us hope the corona curve flattens soon so everyone could start traveling again. Till then Stay safe, stay home.