We were pleasantly surprised to be invited and experience what this luxurious property had to offer. The lockdown had again started picking the pace but because of prior commitments we had to go. We took utmost care and this happened to be the ideal location for us too, being a very central property. We must admit that sanitization protocols are adhered to with maximum care from the word go. One can be stress-free yet careful the moment one enters this vicinity.
Location: Nestled in the central business district of Bangalore, it is located just 500 meters from the iconic Bangalore turf club close to MG road, the Bangalore palace grounds.
Arrival: The brand new electric luxury Sudan on pickup gave us a sense 'already' that we are out to get pampered. Reaching the Hotel, our entire luggage was once again sanitized.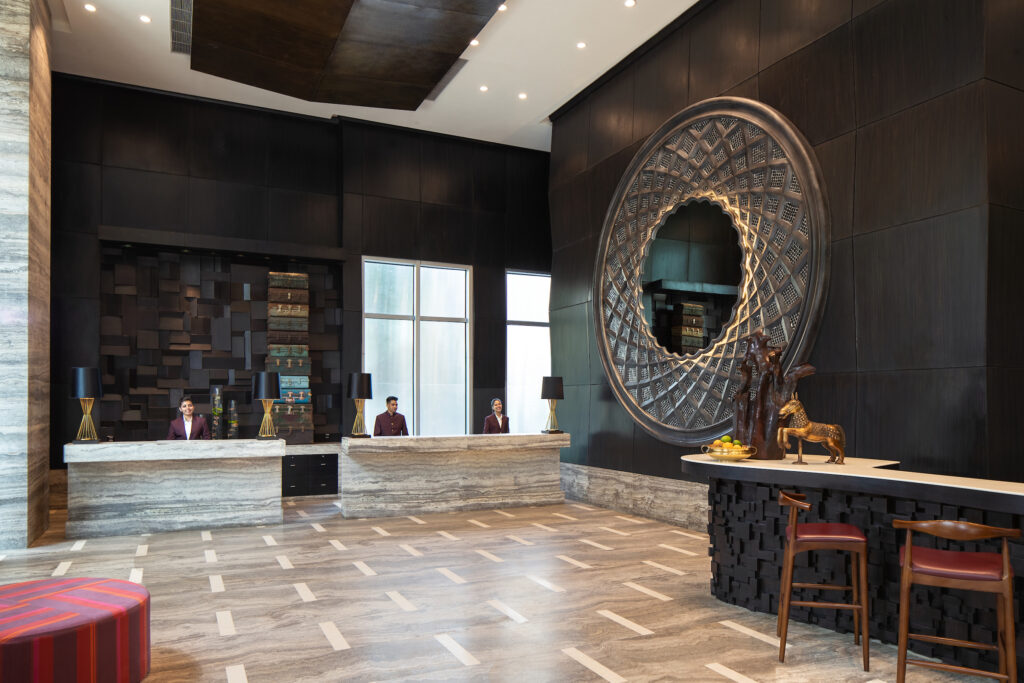 Rooms: We were accommodated in kings' size suite which did feel like a luxurious comfortable home for a few days as we were all set out to do work and enjoy the staying experience. The suite had an unforgettable view from our window of the lush green fields, the horses playing and practicing with their jockeys, and we could spend hours together there in perfect peace and harmony, in unison with the world outside. The bathrooms of this hotel are fitted with jocose, bathtubs, the white marbles which added to our pleasures as this is one thing we look forward to the most in our stays, i.e. good washrooms and comfortable beds.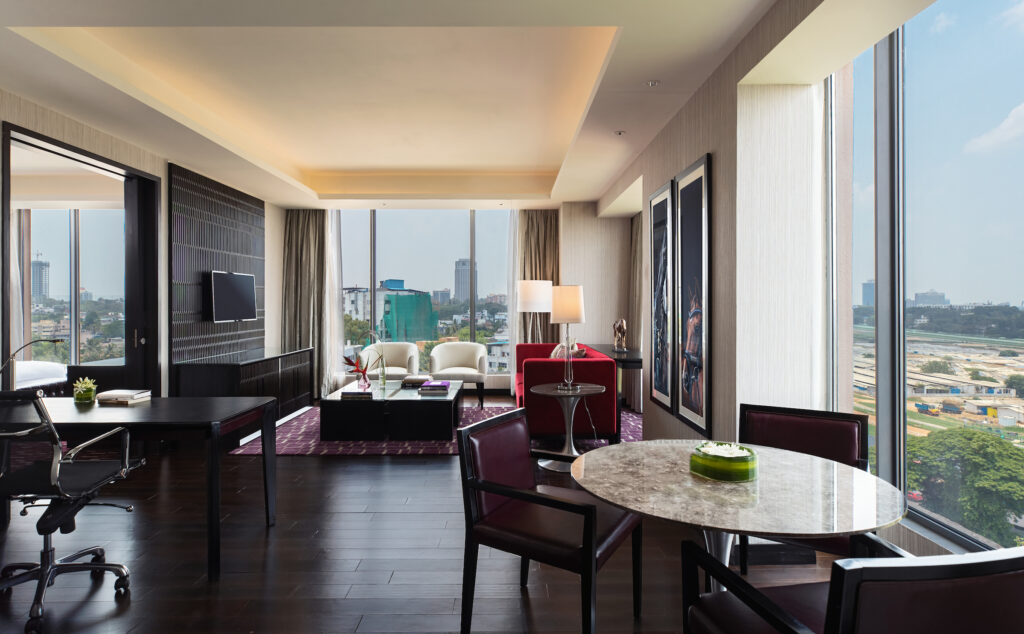 Food: The gastronomy experience here is to die for, with a wide range of authentic south Indian dishes (of course there has to be when one is in Bangalore), continental, Asian, Japanese, Italian food with a twist. One is spoilt for choices to make. You name it and they have it. The layout is widely spread in authentic settings both inside and in the open areas amidst the greenery and waterfalls which is both poetic and romantic at the same time. It transports you in another world.  We would, once again like to mention it here that it is just not about the Hotel but the staff working there, the team who is going an extra mile and making you feel special by taking personal care of even the smallest of the needs/demands one can have.  Our utmost love and regards to the entire team of this hotel and entire hospitality industry for putting in extra efforts round the clock in these turbulent times.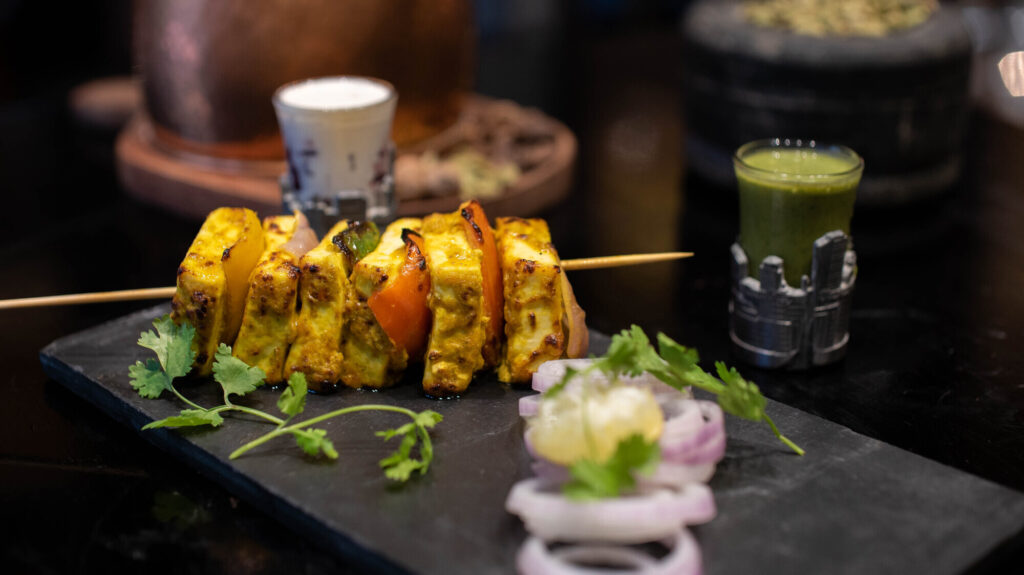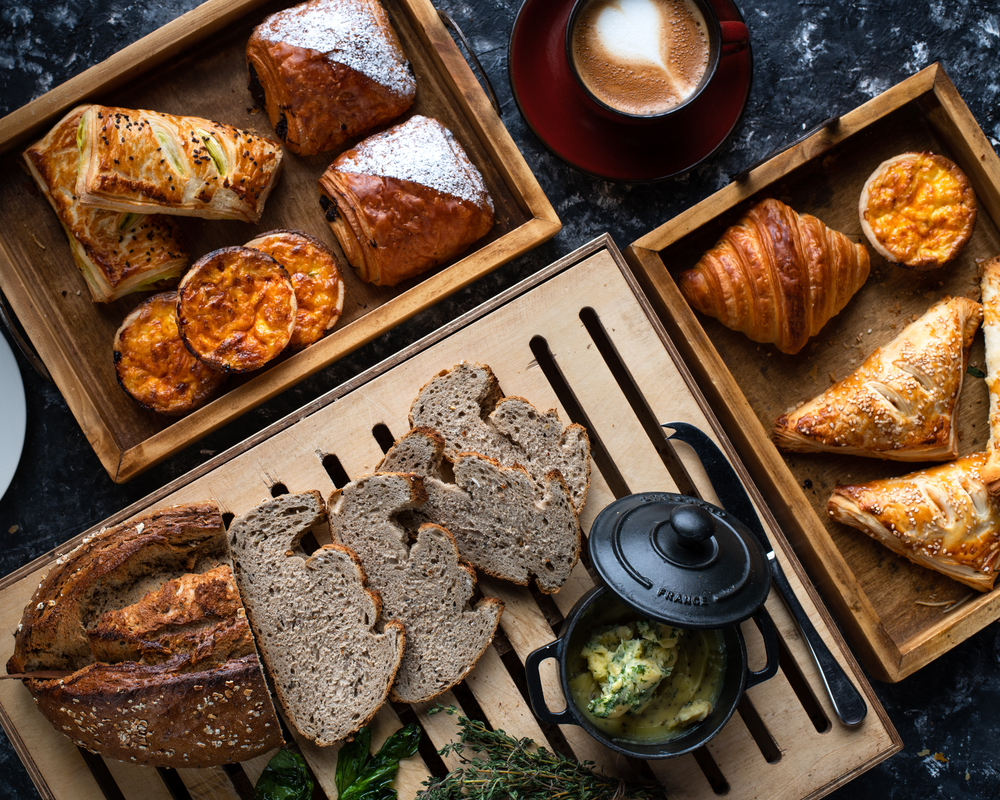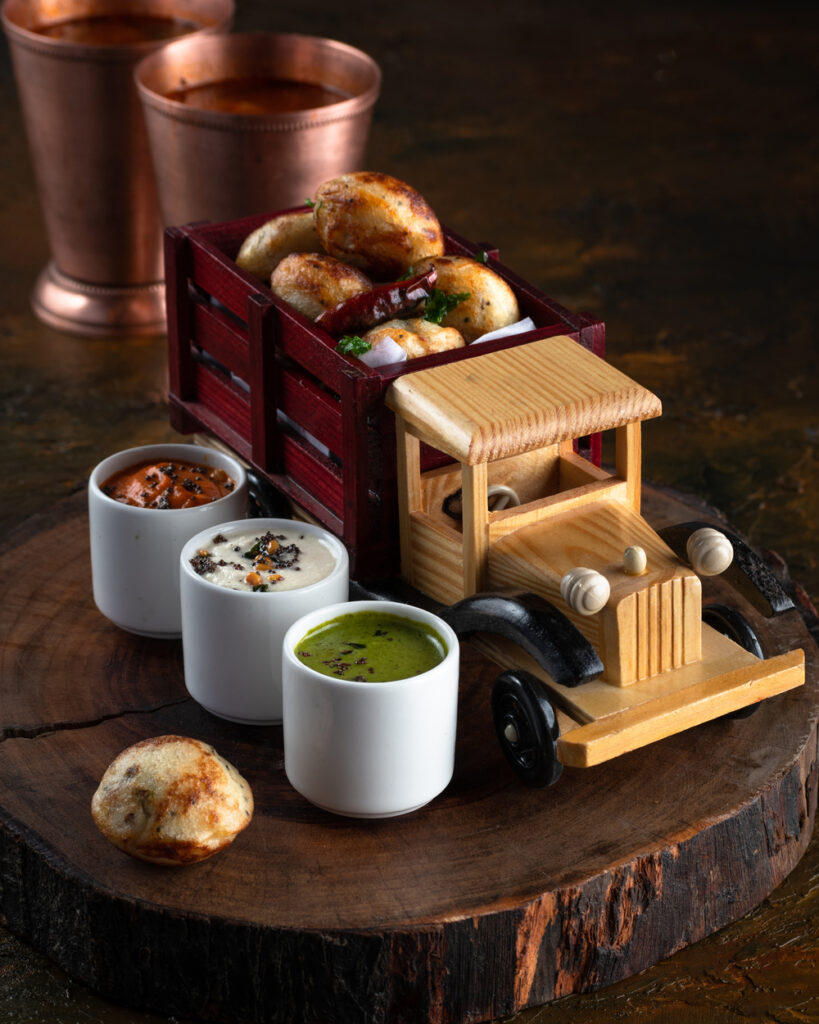 They have the famous 'R bar' which has a feel good factor and niche settings. The outside seating arrangement has gusty fresh winds that one can never forget because wide space between the two buildings facing each other in a way that blows of wind is like kiss of fresh air on your cheeks.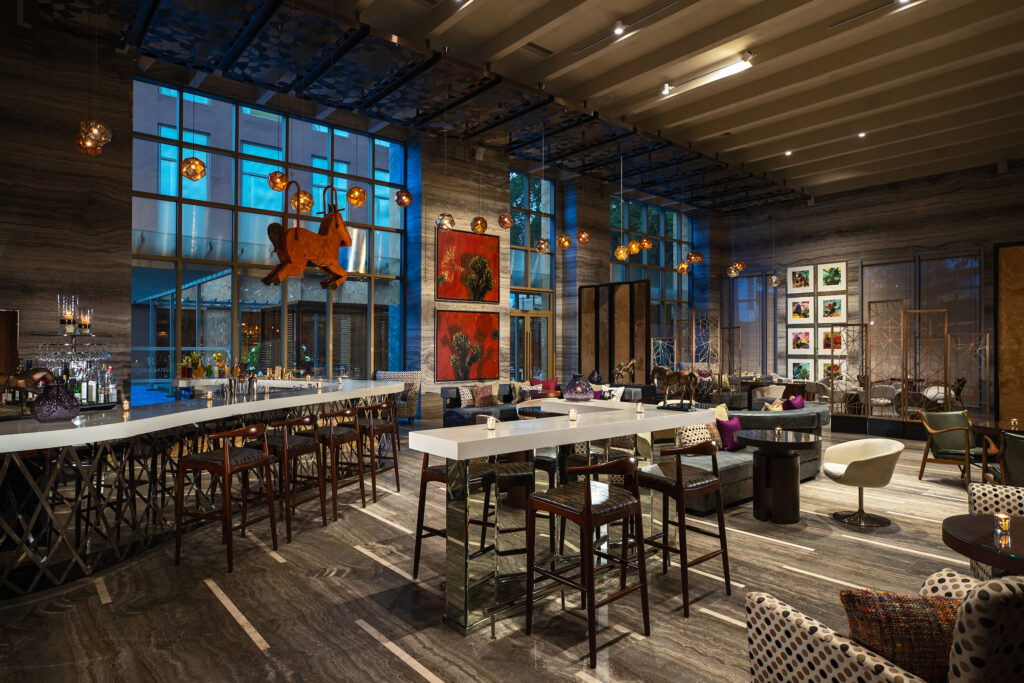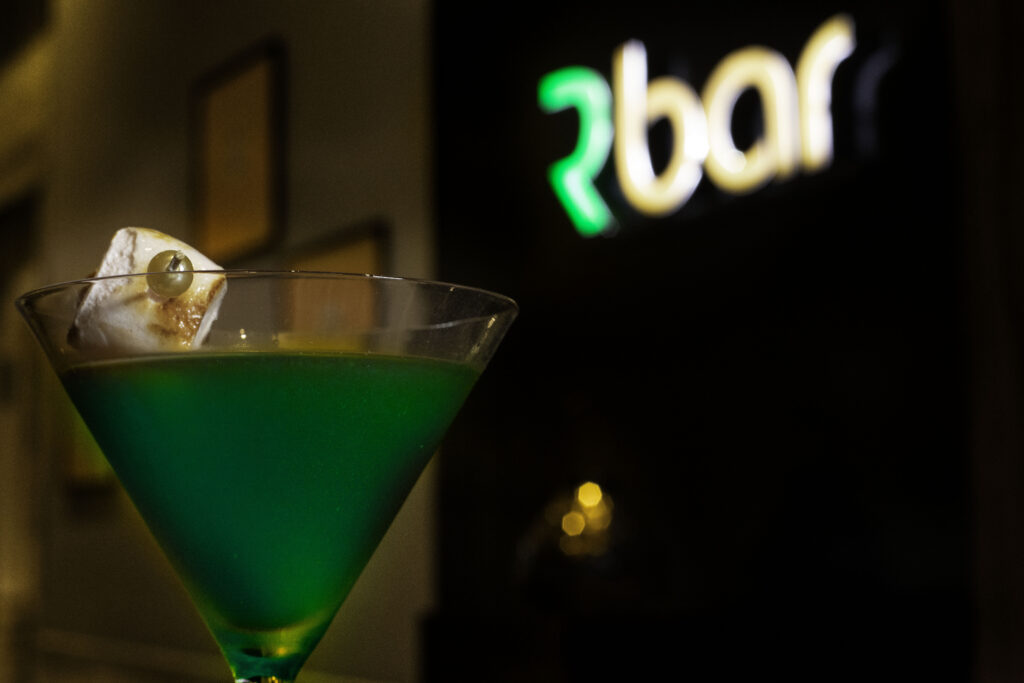 'Pet-cation': They had organized the dog show for the first time when we were there. The owners could come and have brunch with their pets; enjoy their meals in open settings. Wide variety of delicacies was served along with pet friendly dishes made to make the four legged feel special.
Our tete' with Mr. Tejus Jose, the General Manager of Renaissance Bangalore.
As he narrates, "I grew up in Mumbai and my childhood dining-out experiences largely revolved around the Udipi restaurants that are dotted along the length and breadth of Mumbai. From the ubiquitous Sada dosa and masala dosa to the slightly less popular Mysore masala dosa and Rava dosa, these were my gourmet food definitions back then. But beyond my love for dosas, I was awestruck by the efficiency and speed of service at these modest establishments. This observation sowed the seeds of hospitality management into my mind and as they say, rest is history".
About his professional background,  " I went to Hotel school at IHM Hyderabad and subsequently did my training at Oberoi Hotels, I had the good fortune of working with various international brands such as JW Marriott, Hyatt Hotels, at Hyderabad International Convention Centre, Le Meridien and now I am at the stylish and chic Renaissance Bengaluru Race Course Hotel".
About his core responsibilities here in Renaissance: The Renaissance brand of Marriott International is a 'lifestyle brand'. Renaissance Bengaluru lives by its brand ethos and thus channels the energy of the neighborhood through a sense of discovery. The Hotel espouses a local spirit and its personality is infused with spontaneity and style. The Hotel opened in the second half of 2018 and just when it had begun to gather footfalls, COVID-19 truck the world, and the hotels' ramp-up was cut short abruptly. "My core responsibility is hence to take it to the logical conclusion by finishing its journey of ramping up to its full potential".
About the challenges of 2020 and the present COVID situation:" There is no denying that 2020 hit all of us, across the world, like a truck of bricks, so while many industries recovered fairly rapidly (some even thrived), the hospitality industry and the greater tourism industry as a whole floundered. When the world went into this tailspin in March 2020, the speculations were that the 'dust would settle' by 2021 and life would return to normalcy but with new variants of the disease, the industry across the globe seems to be in limbo. While the recovery will not be immediate, I believe with more and more countries successfully inoculating their population, we should be able to see a travel recovery between Q4 2021 and Q2 2022".
About the comeback plans.  "The objective for me, in my position, is to ensure that I and my team can deliver optimal profits to the hotel stakeholders by exploring unexplored revenue opportunities and ensuring non-essential expenses are avoided".
His vision shortly: "I believe the immediate future is fairly simple to deduce, it will be survival of the nimble. Those who adapt and evolve to these challenging times will survive and others will perish. Larger organizations will have to adapt more aggressively since their innate structure does not allow for too many changes. Smaller organizations are better structured for quick changes and adaptation and will most likely weather this COVID storm. Immaterial of how long this situation continues, it's is crucial that organizations, hotels, or travel businesses, empathize with their team members and brave this situation as one".
 Initiatives towards sustainability and the green environment: Sustainability is core to the Hotel and rightly so. In line with this philosophy brand 'Renaissance' runs a program called Earth Matters, and under this program, the hotel reduces the frequency of bed linen change for guests staying for longer durations such that the chemical and energy footprint left behind by guests stay is reduced. This is voluntary and up to the guest to agree however from our experience we observe that most guests are more than willing to participate. The Hotel is moving from halogen lamps to LED lamps in a phased manner and this will not only save energy costs but also reduce the hotels' carbon footprint. The hotel has a very effective sewage treatment plant, which reuses the wastewater and uses it for gardening and other tertiary uses, thus reducing the need for freshwater.
Mr. Jose also tells us about his favorite international destinations, Scotland due to its simple unending landscape, and how in many places you end up seeing a house after many miles. Back home in India, he loves the beaches; also the whole Kankan stretches from Maharashtra to Kerala, and its intense flora and fauna.
Finally our review
An ideal place for:
Luxurious stay
Unique blend of lifestyle, local infusion with aesthetic modern settings.
Centrally located
Gastronomy experiences to indulge in
A perfect place for wedding destinations.