neoVeda Spa, The Metropolitan Hotel & Spa , New Delhi
Introduction: Nestled within the bustling city of Delhi, Neo Veda spa  offers a tranquil oasis where one can escape the chaos and unwind in pure bliss. Located within the luxurious Metropolitan Hotel, this spa provides a holistic and rejuvenating experience for both locals and travellers alike.
neoVeda Spa at The Metropolitan Hotel & Spa, draws on the ancient wisdom of Ayurveda and gives it a modern twist to redefine rejuvenation
After making its presence felt at Craft House, luxury lifestyle store at The Metropolitan Hotel & Spa ,with its mind and body healing and relaxing products , neoVeda Spa welcomes you to a new dimension in the world of health, wellbeing and fitness. neoVeda Spa, based on the concept of new Ayurveda showcases the modern translation of ancient Indian knowledge of life and well-being and takes you on a journey of self discovery. This epitome of luxury encapsulates the time-honoured powers of ayurveda with a modern influence to heal and restore, relax and invigorate. During my recent visit, I had the pleasure of immersing myself in the serenity of Neo Veda Spa, and I must say, it exceeded all my expectations.
Services and Treatments: Neo Veda Spa offers an extensive range of treatments inspired by ancient Ayurvedic practices, as well as modern wellness therapies. The spa menu caters to various needs and preferences, including massages, facials, body wraps, and specialized therapies. The highly skilled and knowledgeable therapists ensure that each treatment is personalized to meet individual requirements, leaving guests feeling refreshed and rejuvenated.
Ambiance and Atmosphere: As soon as I stepped into Neo Veda Spa, I was greeted by a warm and soothing ambiance. The soft lighting, calming music, and delicate fragrance in the air instantly transported me into a state of relaxation. The spa's tastefully decorated interiors, with a perfect blend of modern and traditional elements, created an atmosphere of elegance and tranquility. Serene surrounding of plush 7000 sq. ft. area embraces modern and chic designs set in warm earthy and calming aqua tones and is a lavish spa retreat for inner being. The Spa is home to a state-of-the-art gym and offers an array of classic and modern treatments, massages, scrubs, wraps, facials, baths, foot and hand care, slimming, toning and firming techniques. The five treatment Spa rooms have distinctive themes, big and spacious. Marma room has a Kalari massage set up, Ananda room is stylized for Shirodhara treatment , Prana room is for volcanic Hot Stone massage, Jiva room is for practicing Thai massage and there is a huge couple room, well decorated is the Kama room. There is a spacious lounge where one can wait, relax and indulge in some reading before or after the therapy.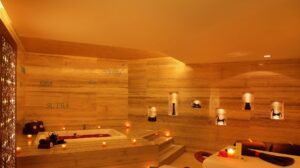 MY Experienec-I opted for the 90 minutes Balinese Relaxation massage and it was a truly transformative experience. The therapist's expertise, combined with the use of aromatic oils, gentle strokes, and targeted pressure points, relieved my muscle tension and restored harmony to my body and mind. Throughout the treatment, I felt completely at ease, thanks to the professional and attentive staff. I did feel completely rejuvinated, relaxed and an ease of my back pain with tension nerves getting released. The soft chants, aromatic candles, soothing atmosphere tranported me into the healing zone.
Conclusion: Neo Veda Spa at Metropolitan Hotel, Delhi, offers a haven of serenity amidst the bustling city. The spa's inviting ambiance, a wide array of treatments, luxurious facilities, and attentive staff make it a must-visit destination for those seeking ultimate relaxation and rejuvenation. Whether you're a local resident or a traveller exploring Delhi, a visit to Neo Veda Spa will leave you feeling pampered, refreshed, and renewed. I highly recommend experiencing the blissful retreat that this spa has to offer.
For more information  https://www.hotelmetdelhi.com/pages.php?id=82
Also Read From Gloom to the Bloom – "My Aheli"