The United Nations Educational, Social and Cultural Organisation in 2003 organised a convention on Safeguarding the Intangible Cultural Heritage. Anything which you cannot touch, measure or see is intangible. From the limitless moonlight overlooking the sky to the warmth we feel on our skin when we step into the Sun, the nature has blessed us with more intangible assets than we can account for.
Over the years, as humans formed communities, culture began to develop. This was the thread that bonded the group and gave them a way  of life, a sense of uniqueness. UNESCO World Heritage Sites are renowned for their architecture and design. The oral, performing arts, rituals, knowledge of nature and traditional craftsmanship are the heritage that need preservation and awareness in order to demonstrate how diverse our cultures can be and to provide them the safeguard that they need.
The list for these intangible cultural heritages were made in 2008 under three banners. These included the ones in need of urgent protection, those related to humanity and the ones which act as good safeguarding practices. India is proudly represented on the list by 13 cultural heritages, which include dance, theatre, chanting, craftsmanship, health practices and fairs. Let's look at them from North to South.
Buddhist chanting
In the region bounded by Himalayas and snow blankets, Buddhist chanting is very popular and bestows upon the Ladakh valley the blessings of Buddha. Sacred texts are recited here and you would be delighted to converse with a Buddhist monk, dressed in maroon and orange robes. They are welcoming and would be happy to share their learnings with you.
Ramman
South of Ladakh is the Garhwal region where Ramman is celebrated. The festival is celebrated in honour of the guardian deity Bhumichetrapal, also called BhumiyalDevta in the Saloor Dungra village of Chamoli district, Uttarakhand. A procession is carried out and barley plants offered to the deity to seek prosperity of agriculture and forest. This ten-day festival is celebrated nine or ten days after Baisakhi.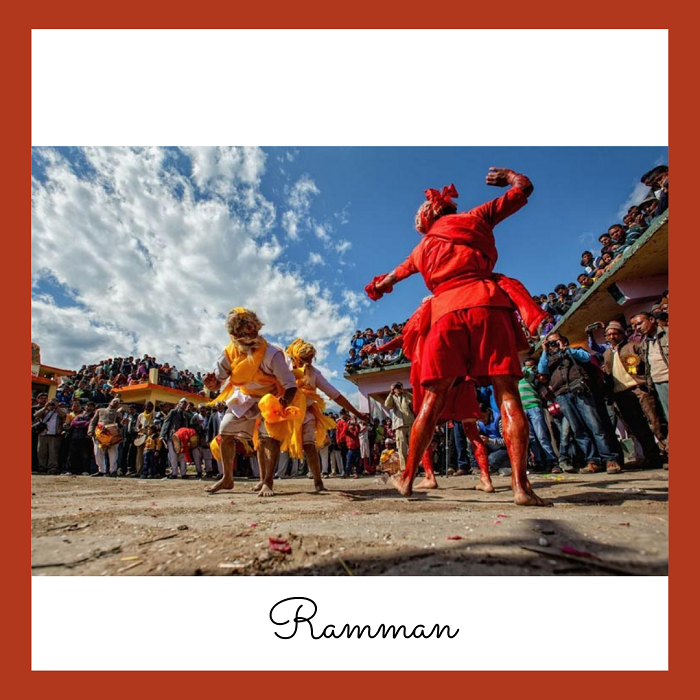 Copper and brass utensil making by Thatheras of Punjab
We cannot mention Baisakhi without talking about Punjab. From the land of five rivers comes the traditional utensil making skills of the Thatheras of Jandiala Guru. They work on brass and copper using mud-brick kiln, traditional tools and hammer the metals into utensils, which are believed to be beneficial for health.
Kalbelia dance
Cross the border to the southwest to enter the desert state of Rajasthan. Here, the Kalbelia tribe performs the Kalbelia dance. Traditionally catching snakes and trading in their venom, the Kalbelia dance resembles serpent movements. They are nomads and renowned for their
dance and songs based on folklore and mythology. Dressed in black skirts embroidered with red and other colours, the women dance and twirl their skirts in a mesmerising fashion to the tune of Pungi, daphli and dholak (musical instruments) played by the men.
5.Kumbh Mela
We will now talk about the largest religious congregation in the world. Held every twelve years, the Kumbh Mela comprises of a ritual dip, religious discourses and mass feedings. The Kumbh Mela is held alternately at Allahabad (Sangam of Ganga, Yamuna, Saraswati), Haridwar (Ganga), Nashik (Godavari) and Ujjain (Shipra). The next Kumbh Mela is expected to be say Haridwar next year.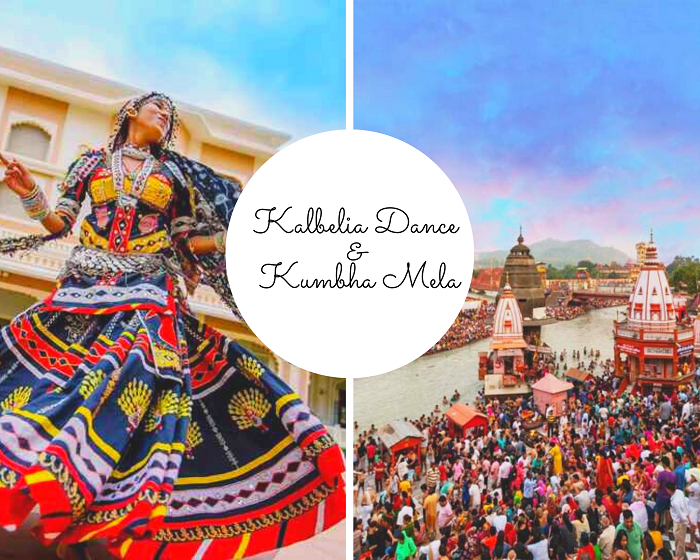 6. Ram leela
With a dip in the temperature these days, what comes to our minds is the celebration of entering the winter months. Ram leela is the traditional performance of Ramayana, held during the Sharad Navratri days. Fairs dot the cities and villages as numerous people turn up to enjoy the enactment of Ramayana on stage, and to enjoy the food and game stalls that are present at the fair.
7. Vedic chanting
Next in list is the tradition of Vedic chanting in India. Rigveda, Yajurveda, Samveda and Atharvaveda have been passed down since 1500 BCE orally. Comprising of hymns and verses, Vedas are recited orally pan-India and this has earned a spot on the intangible cultural heritage of India. It is believed that the sound and pronunciation of the hymn be retained for maximum effect.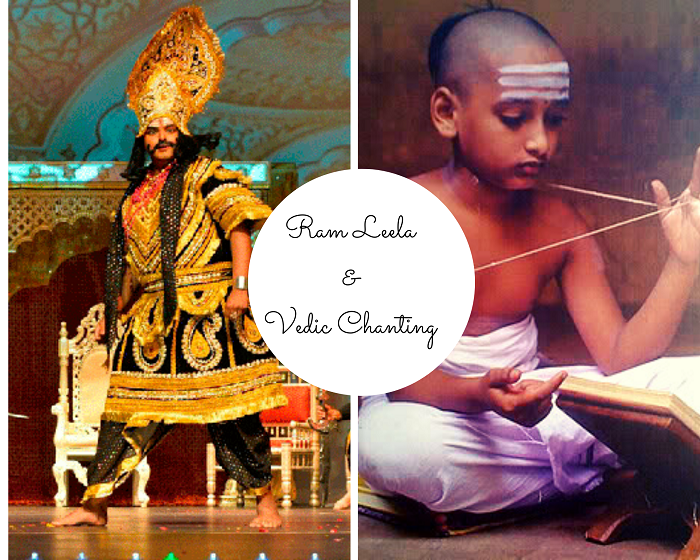 8. Chhau dance
We will now move towards East to look at Chhau dance from Bengal, Jharkhand and Odisha. The dance can be based on martial arts, festive themes, acrobatics, all performed in tribal and folk traditions. Chhau dancers enact stories from Ramayana, Mahabharat and Puranas. People from all walks of life come together in this celebration in the spring. Masks are worn by dancers, the knowledge of making which has been passed down orally over generations. Men perform this dance in a akhara, to the tunes of dhol, mohuri and shehnai.
9. Sankirtana
Let's travel further East on our journey to reach Manipur. Sankirtana is a singing, drumming and dancing performance in the temples and homes of this north eastern state. Embraced in devotion, energy and emotion, these performances are based on the life of Lord Krishna and is mainly practiced by Vaishnava inhabitants. The highlight is the Nata Pala which is performed in Manipur. At home, Sankirtana is offered in the form of a prayer at all ceremonies of life-cycle.
10. Nowruz
Nowruz is the Iranian and Persian New Year celebrated by the Irani and Parsi communities in India, and all over the world. Nowruz has Iranian and Zoroastrian origins, and is celebrated by people from various faiths. It is a holy day for Zoroastrians, Baha'is and some Muslim communities. It marks the beginning of spring in the northern hemisphere, on the day of equinox. It is thus celebrated on March 20, 21 or 22. Various rituals are observed worldwide to mark the festival, including Kampirak and Haft Mewa in Afghanistan, Amu Nowruz and Haji Firuz in Iran, and Khoncha in Azerbaijan.
11.Mudiyettu
We will now trail towards southern India for the ritual dance and theatre of Kerala, Mudiyettu. Also called Mudiyett, the mythological tale of goddess Kali and demon Darika is enacted in Bhadrakali temples between February and May. The performance requires 16 people, and the entire community comes together to contribute and participate. The survival of this art form is relying on Guru-Shishya parampara because there are no formal institutions imparting it.
12.Koodiyattam
Koodiyattam was the first art form from Kerala to be added on the list of intangible cultural heritage from India. It is performed in Kerala as a combination of ancient Sanskrit theatre and Koothu. It is performed in temples to the tunes of Mizhavu drummers by Chakyars and Nangyaramma for 120-150 hours, spread across several nights.
13.Yoga
All the revelry and celebration might take a toll on health. To avoid it, use the next intangible cultural heritage from India, Yoga. Yoga is a practice involving physical, mental and spiritual aspects, meant for awareness. The postures in yoga are often believed to ease pains, train the mind and body, improve meditation and mindfulness of the being by imparting a sense of inner peace to the practitioner.
As seen, India is a melting pot of culture and its intangible heritage is formally listed in the UNESCO Intangible Cultural Heritage. Sometimes, feeling and experiencing are much better than looking and touching. Transcending into the experience can be uplifting and introduce our minds and hearts to various cultural practices. So, pack your bags and head to the destination to delve into the sheer joy and happiness that these practices provide. Happy travelling to you!