New Zealand is truly known for its stunning landscapes. An island nation with a rich geological history, the country is home to white snow-capped mountains, sweeping beaches, lush native forests and glassy lakes. But there is more to New Zealand than just the alluring landscapes.
From the world's only alpine parrot, the kea, to the prehistoric tuatara, the closest relative of the dinosaur, New Zealand is alive with unique wildlife. New Zealand's most famous endemic animal, and the national symbol, is the Kiwi. Despite their small numbers, you can see this bird in several Kiwi hatcheries and sanctuaries. Whether you want to meet some playful dolphins, listen to native bird songs or visit an underground galaxy, New Zealand's wildlife is sure to impress you.
Also read: Hobbiton Movie Set Tour, Matamata, New Zealand
This World Wildlife Day, we bring you top 5 wildlife experiences in New Zealand to get up-close to:
1. Swim with dolphins
The marine capital of New Zealand is without a doubt Kaikoura, where visitors get to see whales, dolphins, seals, and seabirds just minutes from the coast. isitors get the chance to indulge in one of nature's most unique experiences at Dolphin Encounter Kaikoura, swimming with or simply admiring the highly acrobatic dusky dolphins. These small black dolphins with a white belly inhabit the waters around Kaikōura all year-round with  the pod sizes varying from 100 – 1000 plus.
2. See rare blue penguins and yellow-eyed penguins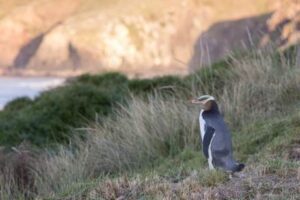 See the tiniest penguins in the world in their natural habitat. Blue penguins can be found all along New Zealand's coasts, but none are closer to human activity than in Oamaru. You have a rare opportunity to watch the birds at twilight as they return to their nests close to the harbour after a day at sea. To witness the biggest colony of Little Penguins on New Zealand's main island, Akaroa is worth a trip. For the yellow-eyed penguins, visit the Penguin Place in Dunedin to view a working conservation programme and observe undisturbed penguin activity up close using a special network of hides and covered tunnels. Moreover, the reserve is a private conservation effort to prevent the extinction of the yellow-eyed penguin, one of the most endangered penguins in the world.
3. Visit one of the best eco-sanctuaries in New Zealand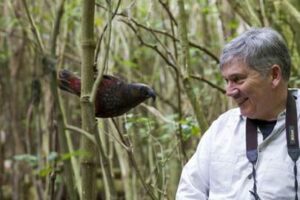 Zealandia is a one-of-a-kind eco-sanctuary for New Zealand's indigenous wildlife. For one thing, rare species thrive in the wild within a square mile of regenerating forest surrounded by an innovative pest-proof fence. Choose from 32 kilometres of trails to see kākā (the playful forest parrot), tuatara (a reptilian living fossil), saddleback, hihi, falcon, takahē, wētā, tūī, robin, and other species. Book a night tour to look for the iconic little spotted kiwi and other nocturnal animals.
4. Marvel at glimmering glow worms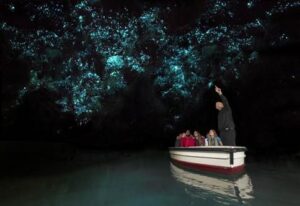 Glow worms are magical insects that glow in the dark and live in New Zealand's caves, grottos, and native forests. Waitomo Caves, three hours from Auckland, offers one of the best glow worm experiences.
Here, you can go on a boat ride down an underground river with thousands of these tiny creatures lighting up the cave roof above you.
They can also be found in other parts of the country, and you may be able to spot them on lake banks, in damp overgrown areas, and in caves.
5. See newly hatched kiwi chicks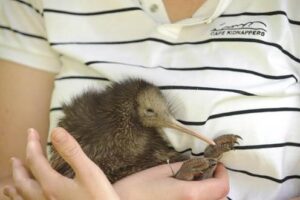 Lastly, schedule a tour to the National Kiwi Hatchery, the top kiwi hatchery in the world. Around 2,000 kiwi chicks have successfully flown from the hatchery thus far! What more, you can watch kiwi chicks receiving a health check during the tour, and if you're lucky, you could even get to see baby chicks up close!
To learn more, visit www.newzealand.com