If you're a fanatic of luxe travelling, there's nothing like visiting top luxury places in Dubai. Dubai is a spectacular metropolis, mixing past and present, where there is something for everyone. Being in such a superlative city that offers equally excellent experiences is something majestic in its way. 
From shopping sprees at Dubai Mall to encompassing an aquarium, ice rink and Dubai Fountain, this place is filled with innovative places. You can seize yourself over the city skyline from the 148th floor of Burj Khalifa and explore the breathtaking views of Palm Jumeirah. You would never get full of this city's richness. 
So to help you plan your luxe-filled stay. Here is our guide to top luxury places and attractions to look out for when in Dubai:
1. Palm Jumeirah Sightseeing in a Private Boat: Top Luxury Places in Dubai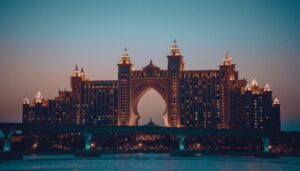 You can see the dramatic skyline of Dubai on board a luxury boat cruise. Palm Jumeirah is an artificial archipelago featuring a waterpark and dolphin habitat. The island is shaped like a palm tree wrapped around the famous attractions of Dubai. You take a private boat tour and catch sight of some of the most iconic buildings on the coast of Palm Jumeirah. 
Price: 1516 – 1815 AED
2. Helicopter Tour 
The sky is quite the limitation regarding luxury adventures in Dubai. There's nothing like gaining a bird's eyesight of notable landmarks such as the Palm Jumeirah and Burj Khalifa. Top of the list for this tour is taking a private helicopter tour of the city. Flight times range from as low as 12 minutes to a 40-minute time. 
You can book the experience through the Heli Dubai platform. Price ranges from AED 645 and increases depending on the duration of the tour. This is a not to miss leisure activity when in Dubai. 
Price: 654- 18,38 AED
3. Sail in Private Yachts 
There is no better way to spruce up your luxury holiday than with a celeb-style yacht cruise. A yacht makes an extraordinary venue with its ultra-chic amenities, comforts, and entertainment facilities on board. Be it to throw an unforgettable family gathering or to celebrate your or your dear ones' big day.
Moreover, awe-inspiring sights, scrumptious cuisines, and world-class drinks promise you an unforgettable cruise experience in Dubai. It is up to you whether you prefer to charter it for a few hours or an entire day.
4. Hot Air Balloon View 
Enjoy a gourmet breakfast and then glide over the dunes of the Dubai desert in a magnificent hot air balloon. Ride over the serene views of the desert and experience the lavish style of travelling with a royal experience of its own. 
Early morning hot air balloon aviation offers dreamy desert sights and the chance to spot the UAE's wildlife from above, including gazelles, oryx and camels. 
5. Premium Desert Safari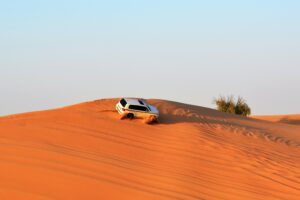 Desert safari is an outstanding Arabian experience that is difficult to miss on any Dubai vacation. It comes with the most deluxe inclusions. Now wonder how to add a whiff of luxury to this rather understated activity. Simply opt for a VIP or Premium Desert Safari.
Uncover the remarkable desert sands by a mighty Hummer and train for the most privileged experiences. Don't forget to relax in a fully furnished, traditional Bedouin-style tent solely organised for you and your group. 
From shisha smoking and henna tattooing to BBQ dining and traditional entertainment like Tanura and Belly Dance show on the safari expo. This safari lets you enjoy all staples of a desert safari with utmost privacy and flexibility.
6. Ferrari World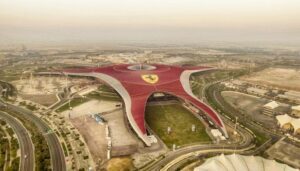 Ferrari World in Abu Dhabi is one of the biggest amusement parks in the world. Locals around love taking a break from all their heated schedules at this Abu Dhabi's famous getaway location. From rides to attractions to affairs, Ferrari World has everything to entertain you throughout your visit. Ferrari World presents you with a chance to smash your land speed records. 
Ferrari World management will leave you captivated with their live concerts and performances. These are arranged in such a manner that it increases the overall level of your craziness for Ferrari. Made in Maranello, Speed of Magic, The Racing Legends, Tyre Twist, and Paddock are some worthy attractions of Ferrari World.
7. Sonara Campsite and Dinner Experience 
The ultimate alfresco dining experience, the striking Sonara Camp has become a favourite among those that like to embrace the spirit of the desert while enjoying the best of Arabian hospitality. The eco-friendly, sustainable Sonara Camp is nestled in the heart of the Dubai Desert Conservation Reserve. It is surrounded by the desert's ubiquitous wildlife, including oryxes and gazelles. 
The Sunset and Dinner experience at Sonara includes a chef-prepared dinner consisting of fresh seasonal ingredients and beverages, a camel ride, live music, a fire show and falcon show and the chance to experience dynamic desert sports, including archery and sandboarding.
How to Reach Dubai? 
Flying is undoubtedly the best way to reach Dubai from India. The Dubai International Airport is vast and the busiest in the UAE. The airlines available to the city are FlyDubai and Etihad. 
There are several direct flights to Dubai from Indian cities like New Delhi, Bangalore, Mumbai, Chennai, Hyderabad, etc., as it is a famous destination. Spicejet, Air India, and IndiGo are some airlines that regularly fly to Dubai. 
Apart from Dubai Airport, another option would be to fly to Sharjah International Airport, which operates Air Arabia. Sharjah is exceptionally close to Dubai, and you can take a taxi to Dubai for just Dh 50.
Top Luxury Hotels to Stay In Dubai 
1. Park Hyatt Dubai 
Located in the Yacht club and Dubai Creek Golf on the banks of the magnificent Dubai Creek, Park Hyatt Dubai feeds an idyllic setting for a luxury getaway. This 5-star resort offers 223 luxury rooms, including 34 suites, all of which offer stunning views overlooking Dubai Creek and the marina. 
With wood-fired ovens, floor-to-ceiling windows, and theater kitchens, the hotel brings excitement and style to dining, both indoor and al fresco. The hotel's award-winning dining venues present the finest Thai, Western, and French cuisines.​ 
2. Jumeirah Al Qasr: Top Luxury Places in Dubai 
Al Qasr literally means 'The Palace' – and this resort indeed is the gem in the zenith of Madinat Jumeirah (or 'city of Jumeirah'). Developed in the style of a Sheikh's summer dwelling, the hotel imitates classic royal architecture and luxury modernity. 
As part of the majestic Madinat Jumeirah, Jumeirah Al Qasr offers all the facilities and activities of the more comprehensive resort, with traditional wooden abra boats transporting guests to more than 40 world-class restaurants and bars. The design of 292 rooms is a homage to the old architectural styles of Arabia. The resort will take your breath away, approaching along a tree-lined avenue decorated with beautifully sculpted Arabian horses. 
3. Atlantis- The Palm Dubai 
This vibrant property is growing in Dubai from the coastline of the enormous man-made island in the globe, Palm Island. The flagship property, Atlantis The Palm, is situated at the peak of Palm Island's outermost crescent, covered by the beautifully serene sea of the Arabian Gulf making it one of the top luxury places in Dubai.  
The grand hotel is one of Dubai's most unique resorts, part blockbuster luxury hotel (more than 1,500 rooms and suites!), part underwater wonderland. The lodge has some of the most luxurious hotel rooms in Dubai, planned to engage guests in total ease and exceptional luxury. 
The hotel's underwater suites have breathtaking views, including the "ancient" ruins of the mythical lost city of Atlantis and its 65,000 marine inhabitants.
Conclusion
Dubai is a place which promotes the essence of luxury travelling. The metropolitan is filled with rich and magnificent experiences. Use the above list to plan your luxury stay in Dubai.