Without an inch of a doubt, Bali is one of the most favoured travel destination spots. Bali has always lived up to the expectation of an ideal quintessential tropical paradise with its relative cities and islands. A visit to this paradise sparks the senses. With this guide from Travel Links Magazine, the top travel magazine of India, familiarize yourself with the top tourist attractions in Bali. 
Renowned as the "Island of Gods," the holiday destination offers everything. Whether exploring the unique culture of the Balinese people, scuba diving in coral reefs, climbing an ancient volcano or sunbathing on a broad stretch of beach, Bali has a bit of heaven to offer every visitor. 
Although Bali is a destination that constitutes more than 100 tourist locations, visiting all of them together becomes a hectic task for travellers. So, as a rescue plan, we have prepared a list of top tourist attractions in Bali, which should be on your not-to-miss list while travelling to Bali. 
1. Tegalalang Rice Terrace: Top Tourist Attractions in Bali
Being in Bali and skipping the well-known Tegalalang Rice Terrace is nothing less than a sin! Suppose you have been looking to roam around the rice fields, waiting to click that million-dollar-worthy Instagram picture or getting lost in yourself with mother nature. In that case, Tegalalang Rice Terrace is the place for you! The arches and bends of the rice terraces make this site more alluring. 
The rice terraces of Tegallalang offer one of the best views you can take while up in Ubud. In addition, one can even see the local farming ways followed by people over there on their visit. 
The village of Tegallalang is just up north of the renowned Ubud city. Located along the main road of Jalan Raya Tegallalang, apart from the rice terrace, one can also witness roadside stalls and art shops. Small aesthetic restaurants offer lunch or dinner with a great view over the deep and lush valley. 
2. Mount Batur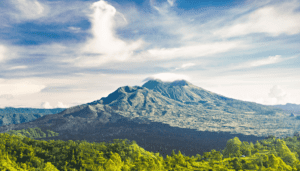 One of the most pleasing ways to grasp the natural beauty of Bali is to take a trek to the famous Mount Batur! It is situated at 1717 meters above sea level. It offers insanely stunning views of Lake Batur, peaks, and the overall magnificence of mother nature!
A trek to Mount Batur, especially before dawn, is one of the best things to witness in Bali! So, never skip a chance to see this beauty! You will find a lot of regional guides and tour operators over Bali who will assist you with the trek and all the safety measures needed.
Mount Batur is an active volcano at the height of 1700m. Many tourists hike this short, but it can be a challenging 2 hours hike up the peak to have a dawn view over Bali and its surrounding isles. 
Reaching here from Ubud might take some time, but the trek and the view of the landscape and Lake Batur are all worth it. It is also one of the favourite activities in Bali if you get bored of the sea and beaches and want to do some expeditions.
3. Ubud Art Market:
Top Tourist Attractions in Bali
A holiday can never be fulfilled without shopping, right? To ensure you gather the best of things, a visit to the Ubud Art Market is a must! From dresses to Balinese handicrafts, you will find an impressive collection here. 
The market is open daily from 8:00 AM – 5:00 PM & is located opposite the Puri Saren Royal Ubud Palace.
4. Ulun Danu Beratan Temple 
Yet another fascinating attraction which should be on the list of must-visit attractions in Bali. It is a 17th-century temple devoted to the Hindu trinity of Brahma-Vishnu-Shiva. At this temple daily, plenty of people come and seek blessings here. 
Interestingly, the temple is wrapped in water on all sides. It seems to be floating on the lake. The temple's reflection on the lake adds more charm to Ulun Danu Beratan Temple.
The beautiful volcanic lake of Danau Bratan is the choice of many local tourists. Still, it is not as well known by foreigners. Therefore moderately still unexplored, it is a true gem to locate. What makes it unique is that it caters to local tourists. Weekdays here would be the best time to enjoy the lake and the park peacefully.
5. Sekumpul Waterfall:
Top Tourist Attractions in Bali
Bali has an abundance of waterfalls, and one of the must-visits among those is the Sekumpul Waterfalls! Whether you want to enjoy yourself with your friends or family or just peacefully admire the beauty of the falls, you can do both at their best here! In addition, you can even choose to take a 3 hours hike over the falls and obscure the lush green valley.
6. Bali Handara Gate 
Anybody travelling to Bali would have clicked their Instagram-worthy click in the Bali Handara Gate! Yes, the final one to enter the list of must-visit attractions in Bali is the well-known Bali Handara Gate. The massive height and the artistic and cultural designs on the gate make it worth a click!
How to reach Bali? 
After you get the visa to Indonesia, select your departure airport. Choose a carrier and book your ticket to the Ngurah Rai International Airport in Bali. 
Many international airlines operate at this airport, such as Emirates, Korean Air, Dragonair, Qatar Airways, Singapore Airlines and Cathay Pacific, to name a few. There are several airline options at all four major metro airports in India to get to Bali, which includes Singapore Air, Etihad Airways, Malaysia Airlines, Thai Airways, and Qantas Airways. Bali flights are often the cheapest from Chennai and Cochin. 
Best time to visit Bali 
The weather in Bali enjoys consistent temperatures throughout the year- tropical, hot and humid. The dry season is the best time to visit Bali, from April to October. 
The best time to travel to Bali from India is from April to October. As the humidity is relatively low, it is comfortable for travellers to enjoy all the activities the place offers.
Top Accommodations in Bali (Budget Wise) 
Luxury Accommodation:
Top Tourist Attractions in Bali
1. Four Seasons Resort Bali, Jimbaran Bay
Four Season Resort is ideal for travellers who love a luxurious accommodation experience. The resort offers traditional Balinese-Style stays in independent and joint villas overlooking a beautiful curve of white sand beach. The room provides special perks such as plunge pools, private gardens, outdoor showers and on-site art lessons for kids.  
2. The Kayon Resort by Pramana, Ubud:
Top Tourist Attractions in Bali
A ten-minute drive from Ubud, The Kayon Resort is a romantic and secluded villa-style resort made especially for couples. They provide floating breakfasts and private infinity pools. The resort is a honeymoon haven nestled amid the lust jungle of Bali. 
3. The Legian, Seminyak
A luxury all-suite resort, The Legian Seminyak, Bali, seeps a sophisticated style overlooking the beach in Seminyak. Other top attributes include dreamy sea views, excellent staff, gourmet food, and high tea.
Mid-Range Accommodation 
1. Uma Sapna, Seminyak. 
Situated in the heart of Seminyak, Uma Sapna is a quiet and peaceful haven which offers stylish self-contained villas with private jacuzzis and hot tubs. This resort is a premium option for travellers who wish to stay near the city's local art. 
2. Beehouse Dijiwa, Ubud 
Beehouse Dijiwa Ubu is a harbour amid echoing green rice fields. This resort is known for its soothing views of peaceful rice paddies and serpentine pools. The villas in the resort are built of natural ingredients such as dark wood, stones and bamboo-wrapped barrels. 
3. Ini Vie Villa, Kuta. 
In Legian, Ini Vie Villa presents a bright contemporary take on Balinese-style villas. The place gives a spectacular countryside view while being close to city markets. The private villas and rooms have jacuzzis and spring showers. 
Final Thought 
Bali is a heaven-like experience which every traveller should experience at least once in their lifetime. The place is filled with beaches, temples, cultural markets and ecstatic views. If you plan to go to Bali, ensure that the tourist attractions mentioned above are on your list.