Are you looking forward for a vacation to rekindle the flames with a romantic escape? Though we believe in celebrating love every day, in the hustle and bustle of everyday life, sometimes we need reasons to celebrate it furthermore in a special way. When love is in the air, no matter what the ether changes and fuses to your mood. Travel Links brings a list of World's top 10 romantic destinations to epitomize a romantic eve at its best.
Love is in the Air
From private beach to starry night, thatched roof bungalow to luxury resorts, from beaches to tropical islands, there is something for everyone. Get acquainted with the some chosen destinations for you and your special one. So, let's check what all you should have in your bucket list.
When you are in love you fall for the person in most uncertain moments. Existence of that special person around you makes it too happening for you to fear the absence. You don't know how to bridge the gap between the serene certainties, and the wildest uncertainties and create an eternity out of it. An eternity that carries an urge to transform every dark insecurity into a coruscate of beaming hope.
VENICE
If one goes through research and data, different opinions may occur. But for most of us, our dream destination has always remained 'Venice'. Being an old school soul, we used to love old Bollywood movie songs. And many Bollywood movies beautifully captured the beauty of Venice as the most romantic city of the world. It has been very rightly considered as one of the most popular honeymoon destination. Venice can be the perfect place for a romantic gateway with our soul mate.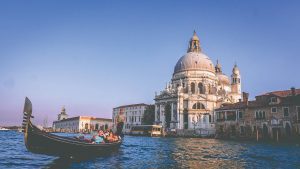 One of the most romantic things to do in Venice is to do nothing! 'Cuddlongh Gondola' ride through the meandering canals of the city with the special one can be the most memorable ride, and for those who love theater and opera, experience it in Venice like never before at Teatro La Fenice theatre. Romantic show is enough to light up the moment between two special people romantically involved.
SANTORINI
Third in list as per our survey of World's top 10 romantic destinations, is Santorini. Nothing can beat a romantic walk, but when it's Santorini, the experience is mesmerizing. Santorini is an island in the southern Aegean Sea of Greece's mainland.
Blue Sky, black sand beach, whitewashed villages, cobbled pavement, and beautiful sea- together they make a perfect destination for a soulful romantic escape. And when we talk about the most romantic destination in Santorini, the first picture that comes to mind is of 'Oia'. Blue domed churches, around the whitewashed villages, wide sea and witnessing the Sunset at Oia can be the perfect quaint moment, and must be in one's bucket list.
BELGIUM
Fyrther to move on, next in the list is Belgium's 'Lake of Love.' As per the belief of the legends, couples who cross the bridge over the "Lake of Love" will be together forever. "Lake of Love" also called as 'The Minnewater' is the old port of medieval Bruges.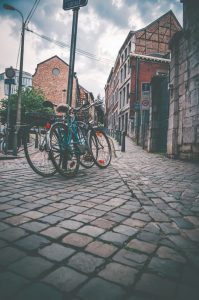 Though as the name suggests, the story is not happy; it is rather tragic. According to the legends, there lived a young lady called Minna who was in love with a man called Stromberg. However, her father arranged her marriage with someone else, and thus she eloped. Her love Stromberg started searching for her, and found her dead on the shores of the lake. Stromberg buried her on the bottom of the lake to make their love immortal in this water. From then on, the lake is known as the Lake of Love. One can enjoy the serene scenery from the lake bridge or from the benches along the lake or by just stroll through the calm Minnewaterpark. This place is also famous for the swan which is the city's emblem. So, if one is looking for an excellent place for picturesque photos, this is the right place.
BORA BORA
Beaches and water always attract attention of the couples. Pristine white sandy beaches, and quite time in Bora Bora, Tahiti- Travel Links suggests that this can be the most enthralling experience with the loved one. Bora-Bora lagoon resembles an artist's palette, full of bright colours. Turquoise sea and a lush green interior make this destination awe-inspiring. An ultimate romantic destination, located at the north west of Papeete. Amazing sunsets, flowering hibiscus, coconut plantations, sand-fringed islets make this place a perfect natural paradise.
MALDIVES
Maldives diary is another chapter one should write in their book of love. Scintillating beaches, serene blue sea, lagoon lapping the beach, and coconut and palm trees waving on the shore, relaxing spa, what else can you ask for. Resort in Maldives can turn into a love nest designed to fulfill all the passionate dreams. Villas are secluded in lush vegetation or isolated above a lagoon.
Experience the magical moment with the beautiful sunset where the sky turns golden until darkness arises; and who doesn't want the sea waves to kiss their feet and the sand to slowly sweep beneath you. Experience Maldives for a quixotic gateway. Holiday in the Maldives is yet another opportunity to be together in a way that has not been explored before. This is our one of the favourite World's top 10 romantic destinations.
ZAKYNTHOS
Yet another offbeat destination for a unique romantic escape is this beautiful Greek Island. This beauty is called by Venetians 'Fiore di Levante' or the Flower of the East.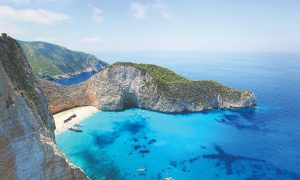 Very rightly, it was considered as the jewel of the empire. Zakynthos is the perfect place to sail through the beautiful beaches. Cavalcade of beaches is captivating. Each beach is much more magical than the previous one. Turquoise green water, white cliffs and ubiquitous white sand add drama to the enchanting beauty. This landscape is not only famous for beaches, but the center of the town, Bokhali, is another attraction of the town to spend a lovely time with your partner. One can admire the panoramic view of this beautiful place.
VIETNAM
Vietnam has limitless scenic landscape. This destination is more popular for its untouched beaches, old Buddhist pagodas, countryside and also for the bustling cities. Warm cultural aspect of Vietnam further makes it a popular choice for couples. Mai Chau is one of the calmest places in Vietnam. The lush green fields and mountains in combination make a perfect hideout for couples.
Situated in the Hoàng Liên Son mountains of Vietnam, Sa Pa is popular amongst the adventurous couples, as it is a destination for trekking. Sa pa is a serene-yet-colourful countryside. Terraced paddy cultivation makes the destination perfect for a secluded getaway.
JAPAN
For those who love fresh air and colours all around, nothing can beat Japan. Though Japan is quite popular for multiple other reasons, but this place in Asia can be counted as one of the most romantic destinations. Many years back, only Bollywood could realize the beauty of this place and made 'Love in Tokyo'. Onset of spring season is celebrated throughout Asia in different ways. In Japan it is popularly known as Sakura- or the cherry blossoms. This time of the year, the city is painted in the most beautiful colours of nature. It should be in one's bucket list to be in this paradise soon. There's something whimsical about seeing the rainbow, beautiful mountains, Sakura with our soul mate away from the crowd in a distant land.
And if you are single, this goes for you. Komizu Dera is one of the most popular shrines in Kyoto, preferred by many single as well as by couples. Belief is that there is a small shrine behind the main hall which is called as the "the stone of love". So, according to legends, if one wants to find true love, there are 2 big stones placed in the center of the shrine. One should first touch the stone and close their eyes continue walking wards the other stone and, if they find the other stone and touch it, then they will find true love. Also, don't forget skiing in Niseko with your partner. I would surely like to check this out, what about you?
MAURITIUS
Though as per Travel Links survey it stands last, as the place is quite popular for the lovebirds, but Mauritius can never be enough.
Mauritius will always stay fresh in one's mind even after one bids goodbye to the place. The beauty of the place begins the time you land. So, remember to book a window seat for the special one. The island boasts inspiring landscapes that will certainly keep us dazzled. Flic-en- Flac is a dreamy beach of the island, as it is the only spot where you will envision perfect sunset in Mauritius. If you want a relaxing romantic break on an island to rejuvenate yourself and rekindle your relationship, an ideal destination for this is Mauritius.
Travelling with your loved one enhances the bonding and also infuses excitement in the relationship and renews feelings of intimacy, which sometimes takes a back seat when you are caught up in the hustle and bustle of routine life. Let us know how you are planning to surprise your partner this Valentines's.
INDONESIA
For those couples who enjoy art, nature, awesome cuisine and are creative, Travel Links advises you to explore Indonesia under our World's top 10 romantic destinations.
Sumba Island in Indonesia is one of the best places away from the hustle bustle of the city and Nihiwatu Beach here offers an intimate escape. Love is when one sits beside someone doing nothing and still feels content and happy. One can spend some such time doing nothing in this private beach, almost whispering sweet nothings to your loved one. Laze around on the beaches and then explore all of Indonesia's picturesque villages and have some delicious Indonesian cuisine.
One of the most beautiful nature reserves is Bali in Indonesia. Out of the thousand other islands of Indonesia, Bali has its own charm and beauty. There is a saying in Bali: "We have no art. We do everything as beautifully as possible." Indeed, be it art or culture, nature or people, everything about this place is serene and beautiful.
Here are the World's Top 10 Romantic Destinations picked up by Travel Links for your romantic getaway.