Situated in the Himalayas is Tirthan Valley. It is a quaint region with villages peppered on cascading hills. We, my family and I, arrived here on Sunday, the 26th of March, 2023. It was an overnight trip by bus lasting around 12 hours. We got off at Aut and made our way by cab to Gushaini where our resort was. The ride was approximately an hour long. The route overlooked lush greenery, clear skies, andclouds like cotton candy- I was enchanted. Wide-eyed, I tried to take it all in, afraid to miss out on any detail. After all, it was these 4 short days that were to sustain me for several months till my next trip.
How to reach
Bus
We went by HPTDC's New Delhi to Manali bus which cost Rs. 1600 per person. The seats were quite comfortable to sit in although sleeping in them was not the best experience. There are several Volvos and private buses that ply between New Delhi and Manali that would take you through Aut. You could also take state transport buses which would cost around Rs. 700. From Aut, we took a cab to Gushaini, our destination, for Rs. 1500. There are also local buses that will take you to Gushaini which would charge around Rs. 150 per person.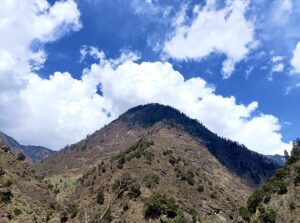 Buses are the easiest and most direct way to reach Gushaini. Travelling by Himachal roadways is always a pleasure. The view that meets your eyes when you awake in the morning and the consequent exhilaration is quite unmatched.
Train
However, you may also choose to travel by train or by air. The nearest railway station is Kiratpur which is around 200 km from Gushaini. From there, you may take a cab or the local bus. Chandigarh and Ambala Cantt railway stations are also considerable options.
By Air
If you want to travel by air, the nearest airport is Bhuntar. This is the most expensive option with tickets costing around Rs. 4000 from New Delhi. However, it is also the least time-consuming with air travel lasting 1.5 hours. From there, you could take a taxi to Gushaini which would take you around 1.5 hours. Chandigarh, Dehradun and Dharamshala airports are other options.
Also read: What Is The Best Time To Visit Manali- Every tourist has to know
When to visit
The best time to go to Tirthan Valley is from March to June. The weather is beautiful. From May, you would be able to see the hillside in full bloom with pears, cherries, apples, apricots, persimmon, and walnuts sprouting on trees. July to September witness the monsoons and are not the best time to visit the valley.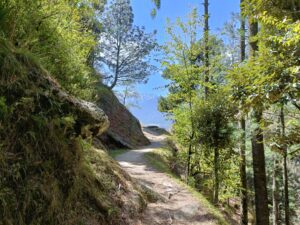 If you love chilly winters, November to February is the time for you. Temperatures drop to -5 degrees. For a week in January, there is snowfall here. However, some places like Sarchi would be covered under 5 feet of snow, making it unviable to visit.
What I packed
Since I visited Tirthan Valley in March, I packed a couple of sweaters, a sweatshirt and a jacket. On all days, I wore a woollen top, a sweatshirt and in the evenings, a jacket on top. My jacket also helped when it got pretty windy. Make sure to pack a good pair of sports shoes since you will have to walk a lot, and do not forget your sunscreen! The sun is very harsh in the hills and can lead to sunburns if you are not well protected.
The resort
With a stone and wood facade, the cottage was a stunning visual. The interiors were masterfully decorated with intricately carved wooden panels, skilfully painted Himalayan birds and comfortable furniture.
The rooms were bliss to stay in. It was a penthouse housing 4 people with all amenities- running hot water, room heater, and warm blankets. With a direct view of the river, the balcony soon became my favourite spot. The room cost us Rs. 10,000 per night, including taxes and breakfast. Lunch and dinner were paid buffets and they charged Rs. 500 per person per meal.
Also read: New Eco Airbnbs to Add to Your Travel Wishlist
Itinerary
Chhoi Waterfalls
On our first day here, we made our way to Chhoi Waterfalls. It was a 2km trek (one way) from the closest motorable road. The trek was pretty straightforward requiring only basic agility and fitness. Most of the path was made of stone making it easier to find footing.
The waterfalls were a wonderful sight. They fell from a height of around 100 feet, spraying all those who stood around the pool. Standing there, feeling the cold water splash on my face and the chilly breeze making my face go numb was an exhilarating experience.
Trek to The Great Himalayan National Park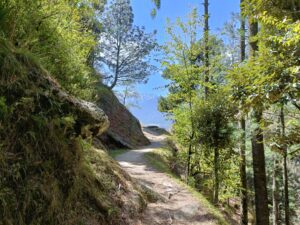 The agenda for the next day (Monday) was going on a 5 km (one-way) trek to The Great Himalayan National Park, a must-do in Tirthan Valley. While difficult, the trek proved to be one of the most calming experiences of my life.We stopped regularly, not just to catch our breath but to take in the beautiful sight around us- the imposing mountains, the lush green plants, the tall pines, and, of course, the river. We made our way to the entry gate of the National Park. Going beyond would have needed a permit, something we had not applied for. Many travellers set up camp inside or go on treks of varying lengths and difficulty.
A short trek in Sarchi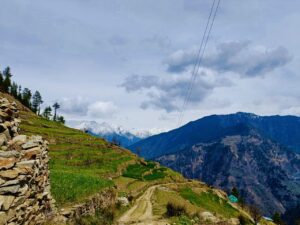 On our third day here, we decided to go to Sarchi, a remote village 17 km from where we stayed. While 17 km is not of much significance on the plains, in the hills it led us to much higher altitudes. The car dropped us at the entry point from where we made our way up by foot. This was a short trek to meadows which offered a 360-degree view of the surroundings. Enormous mountains were now to our eye level and birds flew below us.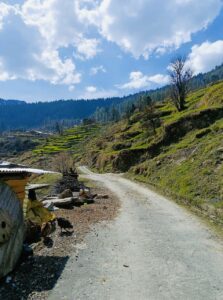 The trek was comparatively easy but the magnificent Himalayan vultures that soared the skies, the shepherds with their lambs and the friendly locals who guided our way made this a much more immersive experience. This was the highlight of my trip- the stress-free, languid side of life that I yearned for.
Also read: UNESCO world heritage sites-India
None of the treks required a guide because the locals in Tirthan Valley were very willing to help us. However, if you want to trek beyond the gates of the National Park, a guide would be a welcome addition. With innumerable species of flora and fauna, the hills are best explored with someone who can guide you. Remember to take the permit beforehand. It costs around Rs. 300 for Indians and Rs. 1000 for foreign visitors per night.
This trip was slow, offbeat and stress-free. The cottage we stayed at was owned by Himachalis who were passionate about their region. They were avid trekkers who knew the landscape by heart. It was a time of togetherness and happiness, of peace and tranquillity.
Also read: 5 Best & Budget Friendly Places To Visit In India