Top Beach Destinations: An ocean breeze puts the mind to ease. Whenever we think of summer vacations, beaches are the first thing to pop up in our minds. Beaches are people's favorite destinations.
What's better than looking around and seeing palm trees and water all around with the breezy air hitting your face and the waves passing each second bringing peace to your mind. 
The coronavirus outbreak has affected the tourism industry all over the world and traveling as of now is not a safe option. Even though some places stay unaffected but avoiding to travel for some time can keep us on a safer side. And if you plan to travel anytime soon do check the condition of the place you are traveling to and always take the necessary precautions to avoid any kind of risk.
Once the pandemic is over, tourism will again flourish but that will take some time, so for a better tomorrow let us all stay inside so that the virus cannot spread and we can once again enjoy traveling! 
While there are numerous beach holiday destinations, there are plenty of heavenly offbeat destinations. Here is a list of 10 beach vacations you can visit next time!
Alagoas, Brazil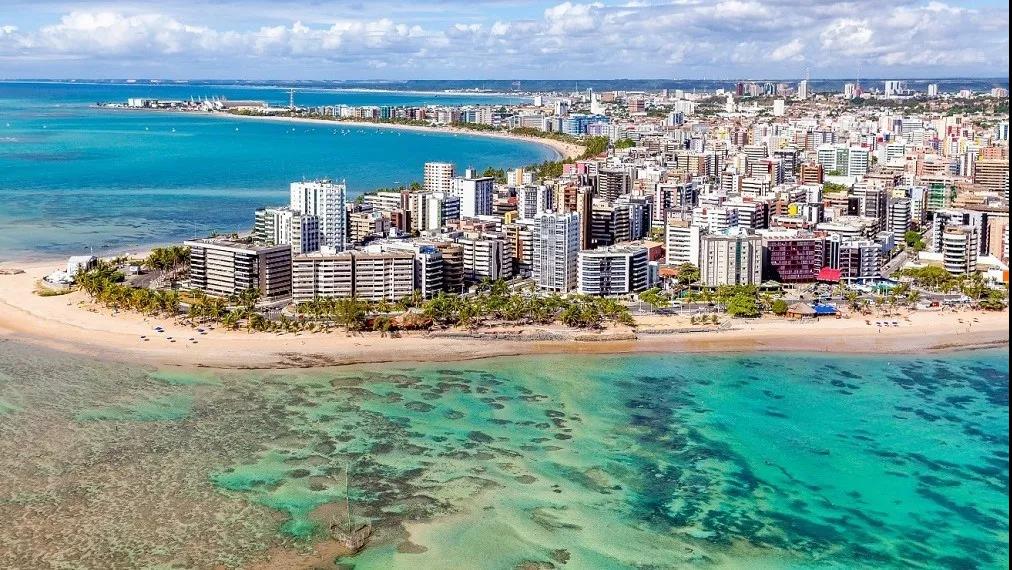 More than 4,500 miles of coastline make Brazil precious but finding untouched sands is quite a task. The state of Alagoas got its name from an enthralling network of lagoons and lakes. The coastline has a plethora of magnificent beaches and fascinating reefs.
The beaches are protected with lush green hills. Some of the best beaches in Alagoas are Maceio, Maragogi, Sao Miguel Dos Milagres, and Japaratinga Beach. For those who have an interest in culture can visit the town hall, museums, and concerts. Street festivals and spontaneous celebrations are certainly worth a visit. 
Saint Martin
Saint Martin is an island in the Caribbean Sea. It is famous for its natural lakes of salt. The island is both untamed and urban. What will attract you the most is the white sand beaches, stunning caves, rainforest-like landscapes, and wildlife. The Happy Bay at St. Martin is a beautiful white sand beach. As the name suggests, the place has all the happy vibes one needs on a holiday.
As it is said, the world's finest wilderness lies beneath the waves, snorkeling is one of the many activities you can indulge in. Maho Bay, Orion Bay, Mullet Bay, and Tintamarre island are a must-visit!
Roatan, Honduras
From zipping to deep-sea fishing to exploring the military protected archipelago of Cayos Cochinos, from horseback riding to swimming with dolphins, Roatan is a paradise for adventure sports lovers and water sports. The span-new white sandy beaches, colorful coral reefs, and lush gardens keep the island's beauty intact.
Activities like snorkeling, dolphin encounter, and kayaking are the signature experiences of Roatan you should definitely try. West Bay, Tabyana Beach, Carambola Botanical Gardens and Trails, and French Harbour are some of the stunning places to wander. 
Staniel Cay, Bahamas 
Staniel Cay is the jewel crown of the Bahamas. It is an incredible oasis in the Exumas. Recreational activities like eco-tour, fishing, stand up paddleboarding, swimming, snorkeling, kayaking or picnicking can add up to your relaxing vacation. The top 5 beaches include Town Beach, Pirate Trap Beach, Ho Tai Cay Beach, South Beach, and Ocean Beach.
Some of the nearby spots are Staniel Cay Yacht Club, the hottest spot has a lunch and dinner restaurant, a bar and also provide accommodation, next is the Swimming Pigs- the Exumas pig on Big Major Cay (pig island), you are expected to find around twenty-five pigs and piglets swimming all around the beach. Thunderball Grotto- the setting of the thrilling Hollywood hit, 'Thunderball' starring Sean Connery, an edition of the popular James Bond 007 films. It has also been featured in "Never Say Never" another Bond film. 
Bald Head Island, North Carolina 
Nature lovers, this place is a treat for you as you get to reconnect with nature and if you are tired of the busy lives in metropolitan cities, Bald Head Island is a must-visit. There are no honking cars and traffic jams, what a strange thing to hear, right? But no cars on the island makes it a quiet and peaceful place.
The 200-year-old lighthouse takes you back in time and climbs on top to see some panoramic views. You get to choose your own adventure- the forest or the sea. Bald head has 14 miles of pristine beaches making it another top beach destination. 
Isla Bastimentos, Panama: Top Beach Destinations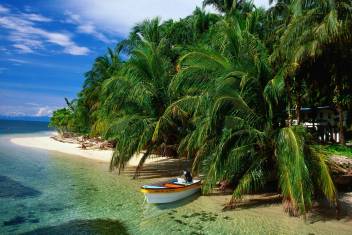 Bastimentos is a perfect location for a relaxing holiday. It is a 52km island. The northwest coast of the island is home to palm-fringed beaches serving as nesting grounds for sea turtles, while the northern and southern coasts are filled with mangrove islands and coral reefs.
Some of the major attractions are the Zapatilla Island, Carenero Island, National Marine Park, Isla Solarte, Red frog beach, Sans Blas Island. 
Grenada, West Indies: Top Beach Destinations
The "Spice Island", Grenada offers a pure and authentic ambiance making you feel rejuvenated instantly. The enchanting island boasts silky stretches of white sand beaches, sunken treasures adorned by corals, and unspoiled landscapes undiscovered by crowds. Visitors can dive into the turquoise crystal clear waters to discover the world's first underwater sculpture park.
Ziplining through tropical rain forests and a buggy tour in the lush green forests add up to the adventures. Tasting tours of three award-winning rum distilleries to sampling exquisite organic chocolate at five chocolate factories all have been the fame of Grenada. Carriacou Island, Grand Anse, St. George, Magazine Beach, Mourne rouge are some of the best spots to go for a holiday making it one of the top beach destinations.
Moorea, French Polynesia: Top Beach Destinations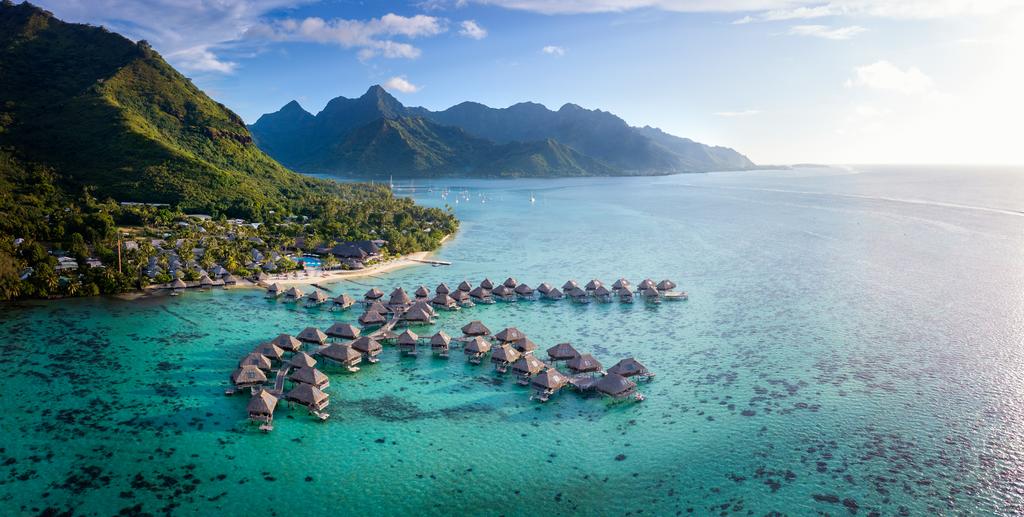 This is one of the most stunning islands shaped like a heart making it look like a paradise. The island has the world's largest coral reef eco-system comprising of 3000 separate reefs. The eight voluminous mountain peaks and sandy beaches make the island magical. It has a relaxed vibe and a welcoming spirit. Opunohu Bay is one of the major attractions with scenic views and turquoise water.
Temae Beach is another beautiful beach with crystal clear water and views across the Sea of the Moon to the island of Tahiti are splendid. Moorea serves as the base camp for snorkelers and scuba divers. Some of the other hot spots include Cook's Bay, Public Beach, and Belvedere Lookout.
Mykonos, Greece: Top Beach Destinations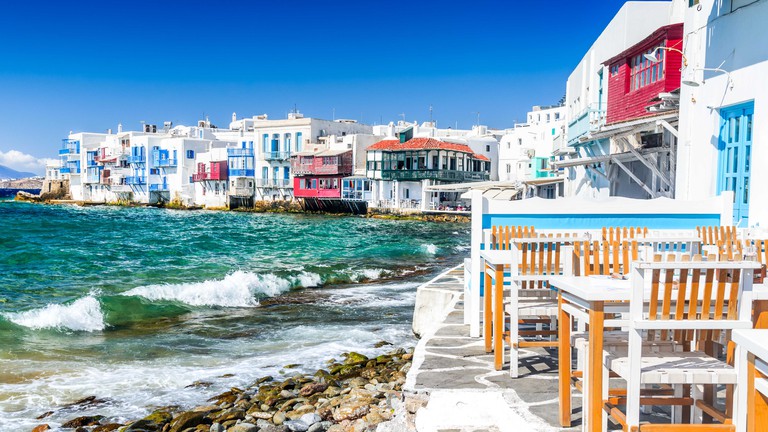 This is the most cosmopolitan island in Greece. It attracts the elite crowd that thrives a stylish nightlife. It looks like a white paradise with turquoise skies and beaches with cool bars. Mykonos is a fascinating island where the glamour meets simplicity.
For the day, you can enjoy activities like skiing, jet-skiing, windsurfing, horseback riding, parasailing while the nights are all about partying. Head to the north for more secluded beaches. Some places that are definitely worth a visit are Agrari beach, little Venice, Ftelia beach, Delos, Windmills, and Paradise beach.
Grand Cayman Island, Cayman Islands
This is the largest amongst the three of the Cayman Islands. It is the perfect tropical getaway. You can swim in the tranquil waters to enjoy the summers. Activities to make the vacation fun-filled include paddle boarding, boat rides, private boat charters, snorkeling, scuba diving, horseback riding, and parasailing.
Cayman Turtle center is a wildlife park with lots of exhibits and adventures. The Seven Mile Beach is a scenic spot. You can visit the Starfish Point to see some beautiful starfish. West Bay, George Town, and Stingray City add to the beauty of Grand Cayman Island.
You will love each of these Top Beach Destinations and also do not forget to carry your sunscreen! Share with Travel Links Magazine your experiences and tag us in your stories.