With a face mask hanging on one ear and hands covered in powdery gloves, I walk in dragging my luggage at the Heathrow Airport, London. When I think of an airport, I imagine it to be crowded with people from all around the world, long queues and babies crying at the check-in line. But this was no usual travel, this was travel when the whole world was going through a pandemic!
I enter the airport and first, instead of asking me for my passport, the security guard asks if I'm carrying the sanitary necessities or not. Strange…! I show him the teeny little bottle of hand sanitiser that I had purchased from a drugstore on my way to the airport and he then lets me in.
As I look around, to my surprise the place is quite empty. For a split second there, I wasn't sure if I was at the right place at all! Every day there are thousands and thousands of people existing apparently with some invisible wings that want to fly off and are waiting in long queues at check-in counters. But this place just wasn't the same; it had stickers stuck up everywhere saying "maintain a 2-metre distance" and "practice social distancing". Where were the usual airport norms?!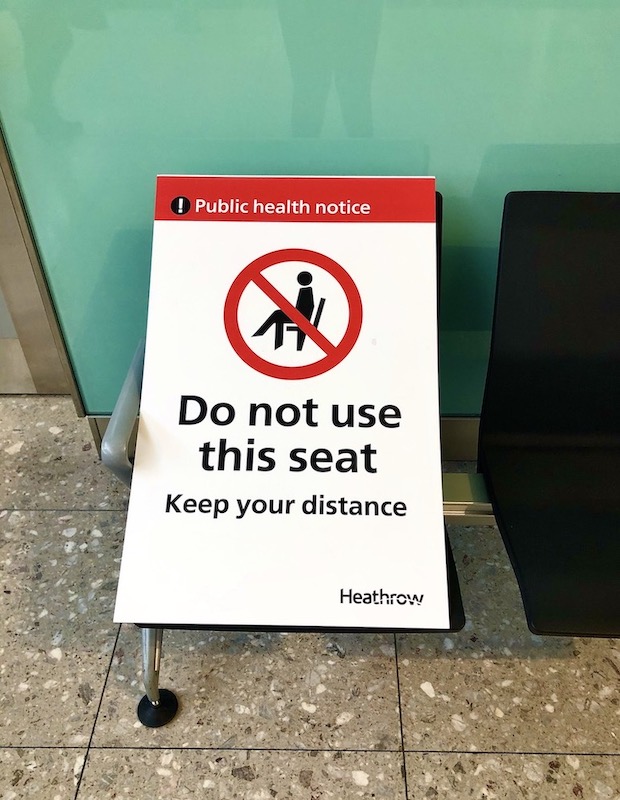 Just after the check-in, I was now looking for a place to sit and eat as my stomach was growling with hunger. But to add to my dismay, all the stores and cafés were closed, the place seemed quiet and only Boots was open and there was a queue to get in. I somehow managed to get myself some snacks to cure the hunger and waited for my gate to be announced. 40 minutes later, as I was about to leave, I got a glance at the remarkable Concorde Aircraft, a supersonic airliner. It was a sight to see, one of the fastest commercial airplanes just resting there with its pointed nose facing toward the runway. The Brits and the French really did a great job creating that beauty. I consider myself quite lucky to get a chance to see and capture it. Soon after, I carried my hand baggage and left off on a trail to look for my gate.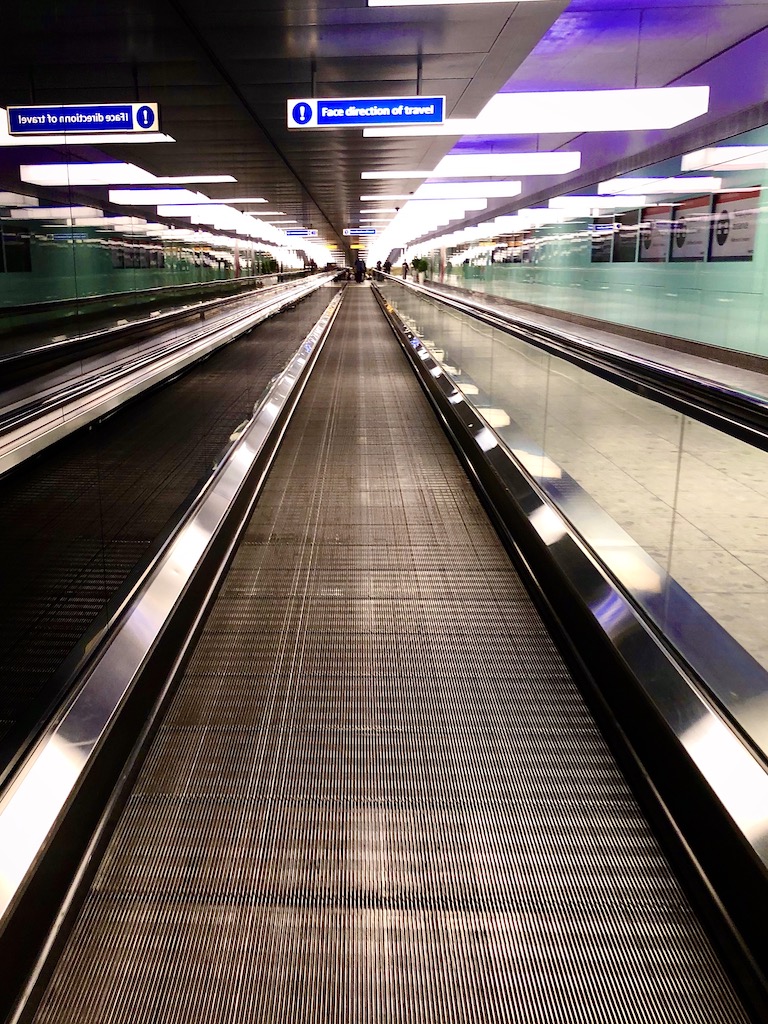 Boarding
After a long walk rolling my mini suitcase and a heavy crap-loaded handbag dangling on my shoulder, I finally spotted my gate, and I found a seat nearby. I started looking out of the huge windows, gazing at the various kinds of aircrafts and it was just so satisfying. A few minutes later, they announced the boarding of my flight. I couldn't wait to get on the plane and just get home, ugh the wait was finally over. But you know what they say, 'getting to your destination isn't easy, there are always hurdles along the way' and, right there was my hurdle, a pretty long queue. Though it was just 10-15 people, it felt as if the whole country was flying to Bahrain. As I stepped in, it felt as if all my stress and anxiety had vanished into thin air. Home was now a mere 6 hours away.
Flight
Now what happens in the flight, stays in the flight. Because I anyway have no clue what happened in those 6 hours. All I recall is adjusting my seat, fastening my seat belt and dozing off. I slept like a baby for 5 and a half hours as my anxiety loosened up, and there seemed to be nothing to worry about.
Airport, the horror begins…
The flight landed at 6:15pm and first, they made us wait for 15 minutes with no clue why. There weren't many passengers, so it seemed fine, and the business class had fewer still, out of which one little girl was me. We got out of the flight but the usual gate to the airport was closed and they took us out to some other gate, only to be met with another long and unnecessary queue. 2 guys wearing some weird white costumes that they call Personal Protective Equipment (PPE), faces covered in a gas respiratory mask, a cylinder stuck to their backs, and a connected pipe in their hand, sprayed something on everyone's hand baggage. It was a disinfectant sanitising spray. We were then taken in a big black bus that took us to an empty deserted area. There was nothing there, but TENTS. What was this place now?
Where am I?
As we got down, I noticed more people completely wrapped up in PPEs like white presents. All this was pretty new to me. What was this? Where was I? I felt like I was Alice, and this was some sort of wonderland with people in weird costumes. The only difference was that Alice's life got better after that, but mine didn't. I had to go through a really long process just to get home. It started with filling up a form, downloading an app, waiting in a queue for a wristband. Yes, they put a wristband on me (insert crying emojis here). It's a tracker wristband which I had to wear for 14 days, to monitor my whereabouts. This actually is a really good and effective way to control the spread of this horrifying virus that has taken over the world but, at that moment I felt as if I'm under house arrest for a serious crime that I never even committed! I was then taken to the testing room. It had seats with 1 metre distance (Social Distancing 101) I had to sit there and wait for about an hour for my turn.
The Test that nearly killed me
It was my turn for the test and I was petrified by that long nasal swab stick that looked pretty much like a longer version of a Q-tip. The lady looked me in the eyes and said "it will be fine, don't worry" but isn't that what all doctors say before they insert a pointy needle in your skin or when they give you the most disgusting syrup to drink? Never, I repeat, never believe a doctor because what happened next was worse than a needle or a syrup. The lady took that nasal Q-tip and up, up and up it went, all up in my nostrils one-by-one.  It was the most weirdly painful experience of my life. I can't even begin to describe how godawful it was.
Finally, home
Now that I was done with my test, they took us back to the same big black bus, and into another long ride back to the Airport. I felt at ease as the nightmare was now over and I was in Bahrain. All that was left was the immigration. I had to wait there at the counter for a while but that did not bother me much because what I had been through earlier was even worse. Done with the immigration, I ran to collect my luggage and was ready to be free of this place. I was the last person at the baggage collection point. I saw my dad standing at the exit gate, waiting for me. I met my dad, but I couldn't even hug him because, well, social distancing. It was a crazy yet adventurous and a bit terrifying experience altogether.
Now I am glad to be back home, in my room having nothing to worry about as my family is with me. This quarantine sometimes gets over my head but when you think about what could happen if you tested positive, it makes you feel better that you are safe and healthy and with your loved ones around you. It would have been worse if the airports and the authorities had not taken steps to control the virus. This was my journey home, travelling from London to Bahrain while the whole world was at war, a war against a deadly virus.
I know this is a hard time for all of us, and we're all stuck up in our houses, quarantined. But this is the least we can do to save lives. Just stay home, and practice social distancing. Try to stay indoors as much as you can. All of this will get better, this too shall pass, till then, stay home stay safe and don't forget to sanitize your hands to ensure proper hygiene.
By: Navya Adlakha