Nearly a 20,000 years old country place, Vietnam has been an escape cultural vacation spot for travelers for years. The country has offered the essence of peace and historical experience to people who seek solace. 
Moreover, there are many things to do in Vietnam, from searching for historical spots to visiting its cultural and culinary restaurants to visiting the yellow city of Vietnam. However, the two most visited cities in the country are: 
1. Hanoi- Capital of Vietnam 
Hanoi – The capital of Vietnam, is known as one of the most ancient capitals in the world. The city is located in northern Vietnam and on the river's western banks, Red River. The beauty of this city lies in the liveliness of the bustling streets where workshops and cafes perform outdoors on the roadsides.
As one explores the place on foot, the lively atmosphere and the delicious odors of cooking from the kitchens make them stop now and then to relish the atmosphere. 
The city's natural beauty can be enjoyed when visiting the Ba Vi National Park, located on a mountain range and known for its rich, diverse flora, fauna, and animals. It is best to visit Hanoi during Autumn or Spring as the city becomes very hot and rainy in summer and cold and dry in winter.
2. Ho Chi Minh City- City in Vietnam 
Named after a Vietnamese revolutionary chief and presently the largest city in the countryside by population, Ho Chi Minh City is one of Vietnam's most favored tourist destinations. Each year, it hosts more and more tourists eager to explore this history-filled city.
Fun fact, in 2017, Ho Chi Minh City saw more than 5 million tourists! Filled with gorgeous architecture and a wealth of culture, it's a beautiful place to spend a holiday.
Top Things to do in Vietnam 
Vietnam is filled with historical, cultural, and adventurous experiences all around. Some of the more prominent things to do in Vietnam are as follows: 
Explore the old Quarter in Hanoi- The capital of Vietnam 
Hanoi's attractions are present in one key area — the Old Quarter. The old Quarter makes exploring the city's magnetism uncomplicated by visiting sites like the Dong Xuan Market, the oldest local market in the town, and Bach Ma temple. 
Start from Hoan Kiem Lake, watching locals rehearsing tai chi and painters smearing landmarks, before stepping north to the bustling Old Quarter. Replenished with a warren of shops, the Old Quarter is still echoing 600 years after its inception. There are shops around at the most affordable Vietnamese dong rates to buy cultural clothing or souvenirs. 
2. Sunrise in the Cloud Paradise of Ta Xua 
On arrival in Ta Xua (Son La), you require a little luck to see the dreamlike and magnificent sea of clouds at the mountain's peak. At dawn, sit on the homestay's bamboo balcony, eyeing the sea of white clouds billowing under the silver moonlight. Or earlier in the morning, when everything stays fuzzy, set out for the challenging mountains in the chilly weather.
The surreal sight of an aureole appearing on a pure white cloudy carpet gliding in the air offers the sense of getting lost in a paradise. 
3. Have Vietnamese Food at 100 Roofs Cafe 
Vietnamese cuisine is one of Indochina's most exceptional and healthy cuisines, which is more refreshing than other cuisines. This cafe is one of the prominent places to dine on authentic Vietnamese dishes home cooked by the owners. 
Try these Vietnam's signature dishes at the cafe –
 

Pho

is a dish made of meat, spices, rice noodles, meat, and various greens. 

Banh Mi

is a Vietnamese toasted baguette sandwiching meat, sliced cucumber, and shredded turnip.

Goi Cuon

is a Vietnamese Fresh Spring roll with crystal transparent rice paper wrapping different fillings.

 

Chao Tom Bao Mia

is a fried sugar cane stick wrapped in minced shrimp, chili plum sauce etc.
4. Boat tour to Mekong River 
The Mekong has numerous tributaries, forming a massive network of rivers and canals to link with secluded islands and sleepy towns. You will feel relaxed and engaged in the rural scenery along the riverbank. It's a joy to scour this maze for several hours by a small boat or get on one of the many cruises from Cai Be to Can Tho to undergo a night on the river.
5. Cruise on Halong Bay 
Scattered with 1,600 limestone isles, Halong Bay is an untouched wonder in northern Vietnam and is a UNESCO World Heritage Site since 1994. The most pleasing way to travel in Halong Bay is by taking a cruise. 
You can see little islands of different forms and extents, French-style architecture created along the bank, and multiple sampans and sailboats on the gulf. 
How To Reach Vietnam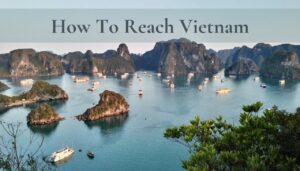 The best way to get to Vietnam from India is by flying from Bangalore. The distance between Vietnam and India is roughly 3194 kilometers (1,985 miles), and your flight time is about 4 hours. Moreover, with more than 300 flights a week linking the two nations, you will find it most suitable to head to Vietnam from Bangalore. 
However, you can also fly from other major cities, like Delhi, Cochin, Hyderabad, Amritsar, and Thiruvananthapuram. There are three international airports in Vietnam. 
You can select your port of arrival, relying on which part of the country attracts you the most. You can fly to Tan Son Nhat International Airport in Ho Chi Minh City to the south, Noi Bai International Airport in Hanoi to the north, or Da Nang International Airport at Da Nang in the center.
Best Time To Visit Vietnam
Based on locations, the best time to visit Vietnam are as follows: 
In Central Vietnam, sunny 30°C (86°F) days are the norm in July and August, any time between February and August.

For Northern Vietnam, the best time is during spring (March to April) and autumn (September to November).

The best time to visit south Vietnam is September to November.
Top places to stay in Ho Chi Minh City- City in Vietnam 
Whether you like to stay in the city center to explore the nightlife or enjoy the peaceful sightseeing outside the city depends significantly on your travel style, budget, and interests. Consisting of 19 urban districts & 5 rural districts, Ho Chi Minh is a crowded city. Therefore, you must determine the best area to stay here.
First, you need to know some information about the most popular districts in Ho Chi Minh City to choose the appropriate accommodations. Some of the best places to stay are as follows: 
Le Duy Grand Hotel
Bay Hotel Ho Chi Minh
Renaissance Riverside Hotel Saigon
The Roost Hostel