What is truly real hospitality? It's not just about a staycation, it's about the moment one plans a trip till the point one reaches back home.
Our staycation and hosptality experience of Hyatt Regency Lucknow
The Hotel sent us a taxi with  amenities, a safety kit, and interesting goodies to much in the car to make our road trip memorable. On our way also the staff kept on checking on us for our safe trip. Our drive from Delhi was smooth as the Agra-Lucknow highway is very well managed and the roads are smooth. It took us less than 6 hours to reach here.
As we enter the gates of Hyatt Regency Lucknow, we are welcomed by a charming front desk team, welcome drinks, and GM personally comes to meet us.
Location: Hyatt Regency is located very centrally located in the heat of the city in Gomti Nagar which makes it very ideal for your business, and leisure trips as it  is for meetings, conferences, weddings, and events
Stay and food: Hyatt Regency stays true to its brand name as our suite room was set on the high floors with a serene view of the city and access to the regency club.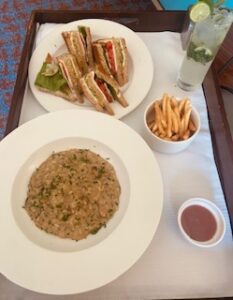 What is it that inspires you or what is it that you look forward to when you are going for a review for legends like Hyatt Chains? Well it's the overall experience from the moment you get into the moment you get out
China House their exclusive Chinese restaurant deserves a special mention for its authentic taste as Chef Han who manages the restaurant hails from China and everything about it is classy be it the décor, quality, taste, and pleasantness of the entire experience.  Would rate this as 5/5.
Their Italian menu is also good, the pizzas and risotto were good in taste and as per the international standards with a thin crust base, just apt cheese and toppings choice which was personal. Even the sandwiches which we ordered were not too cheesy. I would like to mention the in-room dining phone attendant girl on the second day knew our taste buds, and recommended with confidence what we should be tasting. Risotto I orders because of her and indeed she was right about it.
If you don't feel like going out then just enjoy your time by the pool swimming or gyming and or just lazing around in the UP bar.
Another USP of this particular hotel is its cakes and pastries. The cardamom flavors moose or the mango pastry of the chocolate moose, there was plenty to drool upon.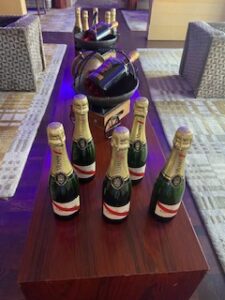 Hyatt also gives you travelling services if you would like to indulge in the city experience of Lucknow be it a shopping city touring arts and culture or some historic monuments. They have a special travel desk who would happily arrange everything for you.
To check out more read our blogs-https://travellinkslive.com/courtyard-by-marriott/
https://travellinkslive.com/the-grandeur-of-le-meridien-jaipur-resort-spa/
To know about other hotel properties http://www.travellinkslive.com. Reach us for planning a trip