Munroe Island is a hidden pearl in the backwaters which is composed of a cluster of 8 islands. Each of them is separated by small water channels and lakes, located about 27 km from Kollam. The place is named in honor of Resident Colonel John Munroe, of the former princely state of Travancore, who is said to have integrated several backwater regions by digging canals.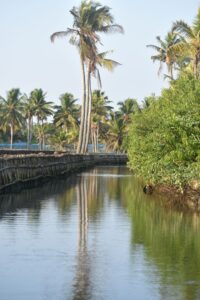 Island's main attractions are the narrow waterways, canal cruises, and the famous Kallada Boat Race held here during the 10-day festival of Onam.  One can see the coir retting and weaving, prawns feeding and sand mining and fishing as they ride through the beautiful waters of Mundrothuruthu. It offers a unique and tranquil setting for a retreat far away from the constant chaos of modern life.
Best Time to Visit Munroe Island
The Munroe Island Kollam is an all-year-round destination. However, it is advisable to visit Munroe Island between November and February as the weather is pleasant making it the best time for sightseeing.
How to reach Munroe Island
Located 27 km away from the heart of Kollam, Munroe Island is accessible by road, rail, and inland water navigation.
Things to do in Munroe Island
Munroe Island is rightly called the 'Hidden Venice of India' as the beautiful canal still remains unheard of too many Indians today.
Located at the confluence of the Ashtamudi Lake and Kallada River, Munroe Island Kollam is blessed with number of crisscross canals water channels.
Munnar Island boating through zigzag canals and beautiful waterways is a real feast for your eyes.
During Munroe Island Tourism, tourists can observe the coir retting process and weaving of coir. Feeding prawns, watching migratory birds, and fishing are some other things tourists can take part in when in Munroe Island Kollam. During your trip to Munroe Island do make it a point to taste local dishes of Kerala that are served by numerous authentic sellers.
By Thileepan V