Introduction Nestled amidst the serene beauty of Dehradun, Fairfield Marriott https://travellinkslive.com/jw-marriott-mussoorie-walnut-grove-resort-spa/promises a luxurious staycation like no other. We @travellinkslive,  were invited to the luxury staycation and hospitality review to this charming haven left us awe-struck. From their impeccable hospitality to exquisite cuisines and enchanting excursions, here's a comprehensive review of our unforgettable experience.
Reaching there was a smooth drive, however the rainy season and seaming chance of landslides/ construction and widening the roads was little disheartening towards our drive to Dehradun
Hospitality at its Finest Fairfield Marriott Dehradunhttps://www.marriott.com/en-us/hotels/dedfi-fairfield-dehradun/overview/ redefines hospitality. From the moment we stepped in, their warm and welcoming staff made us feel right at home with the warm drink made from locally sourced organic flowers only found in the valley. Their attention to detail, impeccable service, and dedication to guest satisfaction were truly commendable. Check in was smooth with swagat pooja thali and rudhraksha mala which is a tradition of the valley.  T
Culinary Delights Words are not enough to define this exquisite culinary journey that we had in Fairfield by Marriott Dehradun.
Their bakery is one of the finest. All the pastries/ cakes/ chocolates are sourced from the ingredients that are originally sources from Belgium and fine cocoa. The pahari thali was traditionally made from locally sourced vegetables  like Gahat ke dal ka shorba, Jakhia ke chawal, chukandar ka halwa and more. The hotel boasts a diverse range of dining options, each offering a unique culinary experience in Alfresco, their all time dining.
In the evening we enjoyed the cockatails, and thupka soup as per our desire. Special mention to traditional way of serving sizzlers.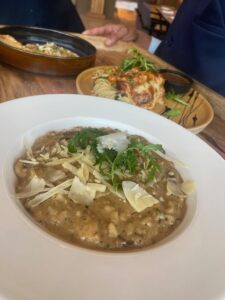 From authentic local dishes to international cuisine, every meal was a delightful surprise. The skilled chefs here are passionate about their craft, ensuring that every dish is a culinary masterpiece. Chef Pradeep and his team made us feel special every step of the way.
Exploring Dehradun: Fairfield Marriott Dehradun's in-house excursion team took us in their luxury car for captivating excursions based on our choices. During our stay, we had the privilege of exploring nearby attractions like the breath-taking Buddhist temple and FRI Dehradun which took us the colonial past and architectural marvel and the concept of preserving the valley, importance of BIO diversity which caught our  attention there.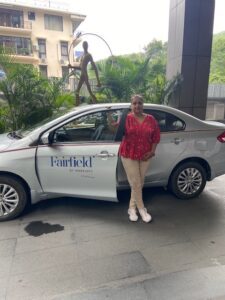 Our friends kept on asking us if we were in 'London'  as the building had the British architectural touch to it.  We also came to know about the movie : Student of the year was shot in that location  The hotel's well-organized excursions made our staycation even more memorable.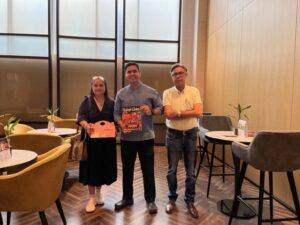 A Luxury Retreat: The rooms at Fairfield Marriott Dehradun are designed for ultimate comfort and relaxation. The plush furnishings, modern amenities, and picturesque views from our room added to the overall charm of our stay. It's the perfect place to unwind and rejuvenate. Minimalism is the concept there which is most suited for traveller these days.
Conclusion: Our luxury staycation at Fairfield Marriott Dehradun was a dream come true. The hospitality, culinary experiences, and excursions exceeded our expectations in every way. If we have to talk about their cuisine, it's one of the best in entire India. Staff and hygiene standards are at par and very proactive services they give.  If you're looking for a memorable getaway that combines comfort, culture, and cuisine, look no further than Fairfield Marriott Dehradun. If one need to plan their mice/ events/ weddings or just gastronomy experience then Fairfield is the best choice for all your plans.