Jal Mahotsav in Madhya Pradesh- Away from the hustle and bustle of the real world lies a paradise called 'Hanuwantia' in the Khandwa district of Madhya Pradesh. Jal 'water'  Mahotsav' massive celebration'; thus, the name "JalMahotsav" started with its 7th edition of Jal Mahotsav and began on 29th November till 29th January Madhya Pradesh 2023; it is India's largest water carnival.
Hanuwatia is approximately 150 km from Indore city and was developed to improve water tourism in the region. The reservoir created beside Indira Sagar Dam is excellent for water sports, and the scenic lake-side city is easily reachable by road.
The Jal Mahotsav is essentially established to promote water-based tourism. It has picked up over the years by winning many national and international awards. MP is planning on creating 15 more such water-based projects for which the sites have been identified.  The Mahotsav has world-class facilities surrounded by water bodies from all three sides, and one needs to reach there by Boat.  A small advice, 'try to reach there before dawn'.
My experience:
The first look of the tent city made me stuck with awe, with multi-colour flags fluttering with the wind, the birds chirping in rhythm as if they were also a part of celebrations, with white tents blistering with yellow bulbs, the sound of shore and the presence of state art motifs and banners Kishore Kumar, Meena Kumari and other big names. The Tent City was ready for significant pomp and show by many National and International artists' performances.
I gazed and sat there by the water for long hours, soaking myself in it from moment to moment. The centre of attraction was the multi-colour hot air balloon, and I heard a lot of guests screaming with excitement and planning their future ceremonies and holidays in and around JalMahotsav. I felt my heart pumping with excitement with so many lands, water, and air-based activities, like Para Motor gliding sport, Banana rides, boat rides, Jet Skiing, Motorboating, Hot Air Balloons, and more. The inner child in me came booming out, almost screaming for more and repeated rides. Had time not been a constraint, we would not have left the place only.
My visit there on being invited by the MP tourism board allowed me to get a first-hand experience of the thrilling adventure, which holds its importance not only with many other Indian states but we also see a spurt of International tourists visiting there.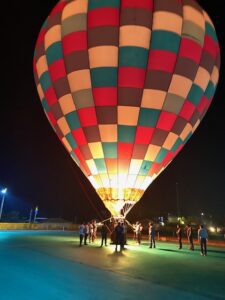 The Principal Secretary, culture and Tourism Madhya Pradesh, Mr Sheo Shukla (I.A.S.), stated the importance of such initiatives in boosting local employment and development in the region. He also gave us insight into other initiatives taken for responsible tourism, empowering the community, safe women's travel, sustainable tourism, and world-class infrastructure and facilities. 
Conclusion: It is one of the best states in India and is very rich in arts, culture, history, reservoirs, and more. It's the new GOA. Madhya Pradesh has something for everyone if you are looking for a religious trip, adventure, nature, wildlife, or slow and sustainable travel as the State is very well equipped on all those fronts too, and one does not see even an iota of garbage anywhere. Madhya Pradesh is taking initiatives to conserve ecologically sensitive areas and the environment and has focused on reducing its carbon footprint.