In the normal year, we all would be getting ready to attend the summer weddings– designing our lehengas and suits getting stitched. Finalizing the gifts and the themes for Mehandi, sangeet, Shaadi, and whatnot.
But look, where we are. Not able to get out of the houses, and we can just dream about attending weddings. The global pandemic and social distancing policies put in place to curb the widespread novel Coronavirus have effectively ruled out the large gatherings.
Not only weddings, but various corporate and social events will also be affected. Sea Hawk Events Pvt Limited, an event planning company in Delhi, which is a leading event planning company in Delhi states that the trends will be affected greatly and especially the weddings will see a new chapter.
According to an app-based survey of wedmegood.com, around 2500 couples have postponed their weddings to the later year or have even canceled the plan to get married this year. India's $70 billion industry has skidded to a stop in the midst of the peak season.
This has affected the event and wedding industry drastically. Not only they are affected in the current times, but the future of these events also looks vague. A wedding will become smaller and more intimate with fewer people invited.
'Big Fat Indian Wedding' has always been a dream for everybody. But the coronavirus outbreak has bought this industry to a screeching halt.
RECENT TRENDS IN WEDDINGS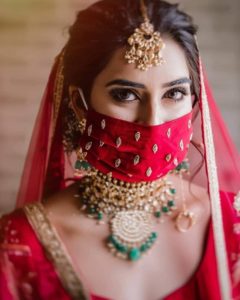 DIGITAL WAYS
There has been an increasing trend in the digital ways of wedding planning as people avoid going out venturing into the markets to get what they actually want. Be it trousseau or be it jewelry, people are preferring to shop online. Thus, digital ways are seeing a hike, and E-Commerce has been a hit among wedding couples.
VIRTUALIZATION AND BROADCASTING
Definitely, relatives and friends love to attend weddings. Where traveling and gathering together has been a thing of the past, virtualization and live broadcasting of weddings is another new trend which will be followed in the coming years.
WEDDING INSURANCE
So many weddings have been delayed that people have lost money, Wedding insurance will also increase in order to substantiate the lost money.
BUFFET STYLE SERVICE
Any Indian wedding's highlight is the lavish buffet-style dinner. In an effort to comply with the physical distancing norms, buffet-style services will be a thing of the past. Precautionary measures like contactless services will be the new norm.
LESS OF DESTINATION WEDDINGS
With more globalization, Destination weddings were the new trend in the recent decade. The aftermath of the pandemic, being the couples will be opting for local weddings as compared to destination weddings. Overseas guests would love to attend weddings but virtual, due to restrictions on non-essential travel.
CONCLUSION
With an enormous amount of holidays, and free weekends, there is a strong possibility that the weirdness in the environment stays for a longer period of time, and weddings- as we know them-grand and elusive- with relatives, friends and extended family attending won't be a norm again for a very long period of time.
In an inclusive interview with Travel Links Magazine, Ravindra Kumar and Kavita Ji, owners of Sea Hawk Pvt Ltd, states that this is a great depression for every industry, and it will take years to cope up with this, and the social distancing norms have greatly affected the social gatherings and the events.