German National Tourist Board (GNTB) has been at the forefront of promoting sustainable tourism offerings to travellers in Germany. They encourage eco conscious travel expeditions while strengthening intercultural understanding, supporting regional businesses, and conserving natural resources.
Eco-consciousness in Travellers
According to an analysis by IPK International, 80 per cent of international travellers are conscious about sustainability and environment protection. Additionally, 40 per cent seek cost-effective offers specially when it comes to their stays.
Moreover, 90 per cent of those surveyed have a strong desire to combine a city trip with a rural one. They extend the length of their stay that contributes towards reducing the CO₂ footprint.
Also read: Tips To Have Exciting, Relaxing, and Sustainable Holidays In Germany
Efforts by GNTB
"As a tourist board, we continuously share the latest data with service providers. Customer groups to be addressed and trends in the choice of transport are crucial fundamentals for travel providers," said Petra Hedorfer, CEO, German National Tourist Board (GNTB).
"The continuous exchange of best practices is also extremely important in transformation. Now travel providers can make faster progress together. We, as a Tourist Board, act as a networking and knowledge platform to accelerate these eco conscious transformations," she added further.
Romit Theophilus is the Director of German National Tourist Office in India. He said, "Germany as a travel destination has been blessed with some of nature's most beautiful creations. From its turquoise lakes, stunning mountains, and abundant flora make it a preferred tourist destination for Indian travellers."
Also read: Sustainable Tourism in Germany
Sustainability- a German Value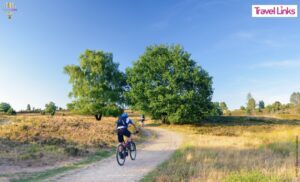 Sustainability has been an intrinsic part of Germany for decades. The Germans famously lead low waste/ sustainable lifestyles. Likewise, they share a common passion for household recycling and have great love for the outdoors. Now, Indian tourists can enjoy Germany's plethora of sustainable offerings, especially affordable public transport options, green architecture, and sprawling parks.
Accordingly, this year, the GNTB will run three theme-specific campaigns that will continue to focus on sustainable tourism: 'Feel Good', 'Embrace German Nature'. A new cultural campaign focussing on the '51 UNESCO World Heritage Sites – Historic Modern Germany' aims to highlight Germany's rich culture and heritage.
Also read: 7 interesting facts about Germany's sustainable tourism
About GNTB
The German National Tourist Board (GNTB) is Germany's national tourism organisation. It works on behalf of the Federal Ministry for Economic Affairs and Climate Action to represent Germany as a tourist destination. Furthermore, is works closely with the German travel industry and private-sector partners, the GNTB develops strategies and marketing campaigns to promote Germany's positive image abroad as a tourist destination and to encourage tourists to visit the country.
The GNTB has a three-pronged recovery strategy for overcoming the challenges of the restart after the COVID-19 pandemic:
Raising awareness of the Destination Germany brand and enhancing the brand profile with a focus on sustainability and climate change mitigation
Supporting the travel industry, which is dominated by small and medium-sized businesses, through relationship management and the sharing of knowledge
Developing evidence-based action plans on the basis of targeted market research and ongoing analysis of changing customer demand.
Thus, if you are looking for places to visit in 2023, choose Germany! Its adventure activities, natural beauty and the government's efforts at sustainability remain unparalleled.