One of the most exciting things about going on a trip is packing your bag for it. The planning, the difficult choices and the struggle of fitting it all culminate with a sense of satisfaction and a rush of excitement for our trip. In all this, good travel bags are your trusted companions. Does it fit all your things? Is it sturdy enough to take on adventure trips? Is it easy to manage and transport? A good travel bag is one that caters to most (if not all) of our needs.

One of the biggest problems with having as many options as we have today is that we often end up getting too confused. The variety of models, their specifications and functions befuddle the brain, and you leave the store wondering if you made the right choice.
But there is no need to worry anymore! Travel Links, India's Top Travel Magazine, presents a carefully curated list of things to keep in mind while buying travel bags. Do scroll down for some of our top recommended brands.
Also read: 7 Essential Things Not to be Missed While Travelling
Assess your travel needs
The first step is to decide the kind of trip you want a bag for. Are you going trekking or on a business trip? For adventure trips, one might go for a knapsack or a backpack, while the needs of one going on a business trip would be different. There are also a number of hybrid bags in the market. With these, you can seamlessly transition from a business trip to a trek.
Additionally, if you go on such trips often, then you have all the more reason to look for reliable luggage. Try investing in a good quality bag. It not only saves you stress on an already exhausting trip, but also lasts longer. 
Analyse your past discomforts
When have you faced a problem before? 
Were you unable to fit all your things in your travel bags? Did you face problems at an airport because of its strict rules? While thinking about what size of bag you need to carry, there are two things to be kept in mind. One, the length of your trip. Second, the rules regarding airport baggage. While the first one is pretty straight forward (longer the trip, the bigger the luggage), the latter is pretty tricky. There is no universal standard, but do look up the requirements of your airline for both check-in and carry-on luggage before purchasing your bag. 

Did you find the luggage badly damaged? Previously, hard luggage was considered to be the best to protect your goods. However, with more innovative fabrics coming in the market, soft bags are also equally durable. People might also be hesitant to buy soft luggage because of the fear of theft. After all, it should be easier to cut through the fabric, right? Well, not really. Fabrics like polyester nylon are very difficult, if not impossible, to cut through. Innovation is a key part of the luggage industry.

Other physical attributes
These include shape, colour and weight of your travel bags.
The shape of the bag can not only impact the ease of managing it, but also how much you can fit into it. For example, a bag with rounded edges would fit lesser things in it than one with sharper edges. 
It is also wiser to choose a uniquely coloured bag. Try not to go for the usual black, grey or red. These become incredibly difficult to spot on the conveyor belt, and you can easily mistake someone else's bag for yours. However, if you do go for one of these mainstay colours, try to tie a brightly coloured string or tag to your luggage to make it easily identifiable. 

You can also look for water resistant bags.

Lastly, lighter bags have several obvious advantages over heavier ones- they are easier to manage, easier to transport and, of course, are the ideal check-in baggage.
Security, practicality and usability
Security is one of the biggest concerns with travel bags. After all, what do you do if you are left stranded in an unknown land without any money or means of communication.

So, before buying a travel bag, check out the lock on the bag. Is it strong and secure enough? Does the bag have a good zipper? Look for YKK zippers, which are very reliable and durable, meaning that they cannot be easily torn apart.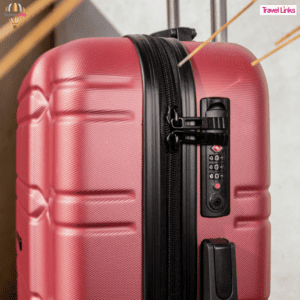 You can go for TSA locks (Transportation Security Administration lock) especially if you are travelling to the United States. These allow your bags to be opened by TSA officers, if they find cause to check it, without causing any damage to your goods. 

You can also invest in a slash-proof bag with a mesh-lined body. Additionally, Bluetooth detectors share the live location of your bag with you. RFID blocking which protects against ID, credit card or passport details theft when the bag goes through a scanner allows you to safely tuck in your important documents in a compartment.
Coming to practicality.

You need to look for a bag which checks your boxes. Does the interior have sufficient space? Sometimes, the outside measurements can be deceiving, with the bulk of the volume being taken up by the body of the suitcase itself. Does the bag have enough pockets and good enough compartments to fit your things? Are the compression straps stretchy and strong enough?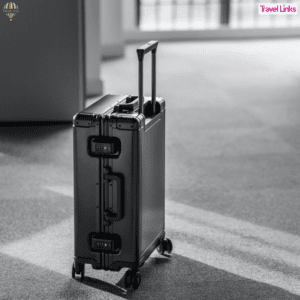 How are the handles? It is better to buy bags with a sturdy handle, instead of one that rattles. This gains special significance in a trolley where one might have to drag the bag for quite some distance. On a trolley, check whether the wheels are secure and smooth, the handle easily retractable. Frequent travellers can go for retractable wheels as it minimises the propensity of them breaking off in transit. Ideally, a bigger suitcase should have 4 wheels instead of 2 for easier mobility.

Finally, buy from a trusted brand with a good warranty. A minimum warranty period of 2 years is an indication of a reliable product.
Also Read: 8 Common Travel Mistakes Every Traveller Makes
Here are some reliable brands you can check out:
Samsonite– Samsonite has a wide range of travel bags catering to all imaginable needs. They are lightweight, easy to manage since they have four smooth and durable wheels and great security functions.
American Tourister– One of the more affordable brands on our list is American Tourister. Created in 1933 with the idea of making baggage more affordable, their bags are very durable, light and fashionable. They are also easy to manoeuvre.
Tumi– A high end brand, Tumi's bags might be expensive but are also some of the most durable ones out there. Their bags provide great security and have useful features like organisers and laptop pockets. They come in great designs and are an excellent choice for business travel.
Travelpro– Travelpro is a known name in the luggage industry. They are incredibly spacious and have great functionality with practical compartments and pockets. It is one of the best brands out there for frequent travellers. Their cabin carry-one are especially great.
Paravel– Since we at Travel Links are great believers in sustainability, Paravel stands out for us. They are an eco-friendly brand which uses upcycled materials to produce chic and extremely durable bags. A luxury brand, Paravel creates some of the most stunning carbon-neutral bags.
If you are one to go for a bag pack or go on adventure trips, you can also checkout Eagle Creek, Osprey and Victorinox.
---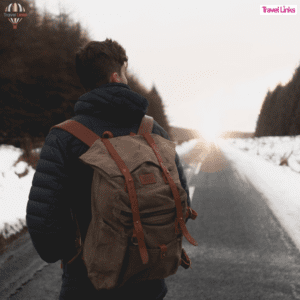 Travel bags can make or break your trip. While a good one contributes immensely to a smooth trip, a flimsy bag can cause immense distress at an already stressful time. Always try out the luggage, which is why we suggest buying it in store and not online. An additional advantage of buying it physically is that you can get input from a trained and well-versed salesperson instead of internet strangers. After all, what works for one may not work for another.

Pack well in advance. Try not to leave things till the last moment. Packing on the eleventh hour can not only be stressful, you might also leave behind important stuff. Additionally, try to reach the airport/train station/bus stop early. This leaves you sufficient time to check in your travel bags.
Lastly, and most importantly, try to pack in a minimalist way. This is one of our biggest goals here at Travel Links- to spread the word about sustainable travelling. Being a minimalist not only helps you save space but also in protecting the environment.
So, get your travel bags and happy travelling!