As the Sun moves towards the Northern Hemisphere, the temperatures soar, pushing our woollens away, and bring in the breezy summery clothes. The flowers bloom into colour as nature romances the soul. In India, Holi signals the oncoming spring in the most colourful way.

In the month of Phalgun, on the full moon day, the evening marks the beginning of the festival, as people circumambulate the bonfire. The next day, North and Western India are shades and hues of all colours known as people young and old play with colour and water till afternoon. Communities partake in the carousing on the occasion of Holi. Radha Krishna idols are dolled up and carried in palanquins along the main streets of the city. Devotional hymns are sung, colours are applied, and song and dance sequences in the name of God are performed.
Legends keep the spirit alive When Krishna came to visit Radha and teased her and her friends, he was chased away by the ladies in Barsana. The tradition is kept alive today as men from Nandgaon visit Barsana to be hit bywomen with sticks. They have to protect themselves from the sticks using shields.At the Radha Rani temple in Barsana in Uttar Pradesh, Lathmar Holi is celebrated in the only temple dedicated to Radha. It is a touristic attraction indeed as thousands gather to witness it. Women beat men with sticks, called lathis, and the latter protect themselves with shields. Songs are sung to attract women's attention who chase men away by hitting them with sticks.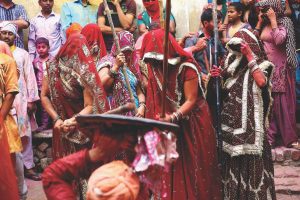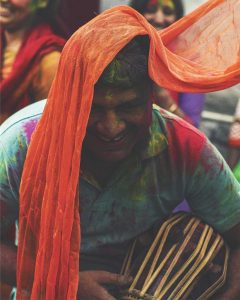 The legends around Holi signify the triumph of good over evil. Once there was a demon king, Hiranyakashyap, whose son Prahlad refused to worship him. He was a devotee of Lord Vishnu, while his father wanted everyone in the kingdom to worship him. Disappointed, he asked his sister Holika to sit in blazing fire with Prahlad, wanting the latter to die. Holika's boon of being unharmed by fire did not work, and she died. Prahlad was saved as he kept chanting Lord Vishnu's name, who blessed the devotee and saved his life. In many parts, effigies of Holika are burnt to mark this.
In yet another folklore, an ogress Pootna was appointed by Lord Krishna's uncle, Kansa, to kill him. When she disguised and offered to feed baby Krishna, he sucked her blood and laid her to death. Effigies of Pootna are also burnt to signify end of darkness. In the southern parts of India, Lord Kaamadeva is worshipped, to depict the sacrifice he made for the worldly beings. When Lord Shiva was in deep meditation over the loss of Sati, the worldly affairs went awry and gods requested the deity of love and passion to shoot his love arrow on Shiva to bring him back to his original self. Angered, Shiva opened his third eye and burnt Kaamadeva to ashes. Bereaved wife Rati prayed to Shiva to revive Kaamadeva, to which he agreed. It is believed that Kaamadeva was burnt on the day of Holi. It is thus called Kamavilas, Kaman Pandigai and Kama Dahanam.
For places associated with Radha and Krishna, Holi brings with it colours and mischief out in the open, as the towns of Mathura, Vrindavan, Barsana and Nandgaon come alive on the occasion of Holi.
Celebrations and festivities galore
"Yashomatimaiya se bole Nandlala, Radha kyun gori, main kyun kala". The song translates to English as- Nandlala (Krishna) complains to his mother Yashoda about his complexion being darker than Radha's. To this, Yashoda asked him to colour Radha's face in whichever colour he wanted, making her look like him. Playful young Krishna applied colour on Radha and other gopis using water guns, and that tradition turned into a festival. The entire country celebrates Holi, as do the Indian diaspora in other parts of the world. Australia, Bangladesh, Canada, Malaysia, Nepal, Trinidad and Tobago,United Kingdom, and United States of America are drenched in the colours of Holi. Nepal celebrates Holi as a national festival, with goddess Saraswati being worshipped in Vajrayogini temples.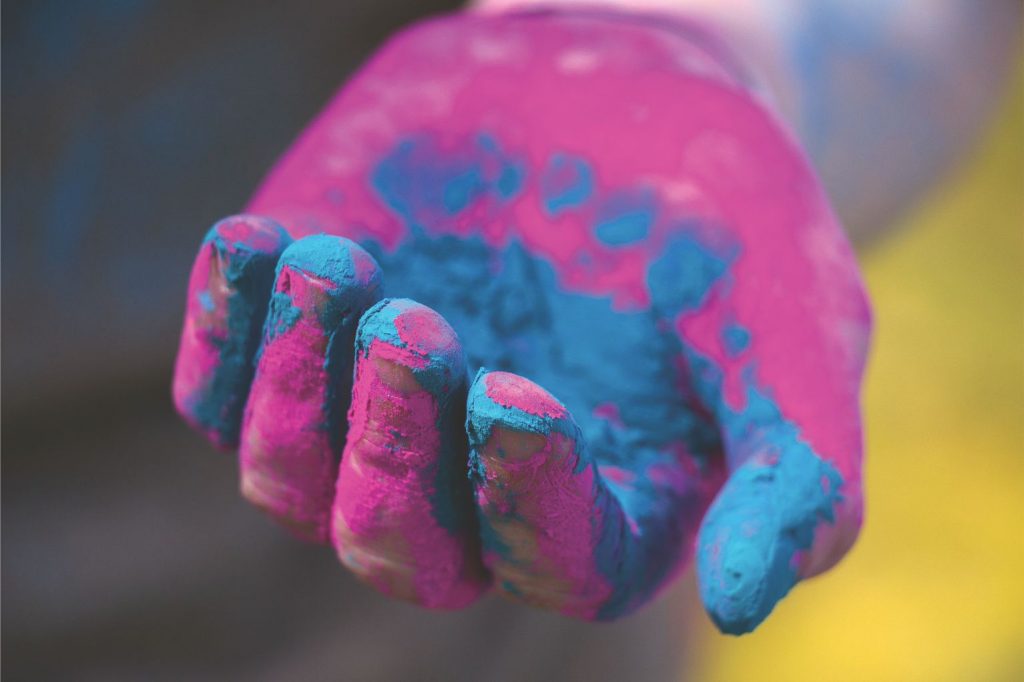 With tropical rainforests in abundance and Fort Zeelandia present, the Phagwa festival (as it is called here) is celebrated as a national holiday in Suriname. It is customary to wear old whites when playing with colours here. Close byin Guyana, known for its cricket and calypso music, the main celebrations in the capital Georgetown are held at Mandir in Prashad Nagar.
In the South Pacific, in the archipelago of over 300 islands, Fijians celebrate Holi by singing folksongs called PhaagGaaian celebrating the love of Radha Krishna. Straight from a postcard perfect picture, Bali in Indonesia celebrates Holi enthusiastically. Mauritius in the Indian Ocean is home to beaches and lagoonsknown the world over. Thefestivities in Mauritius around Holi celebrate the beginning of spring and is celebrated with great fervour. Further North in the United Kingdom, Holi is a jamboree of colours and merriment, as people enjoy the festival of colours. Across the Atlantic Ocean, the United States is home to a large number of Hindu believers, who participate in the revelries of Holi.
Revelries colouring India in all shades
Closer home in Vrindavan, Holi is a 16-day long festival. Special rituals are performed in praise of Lord Krishna. Earthen pots filled with butter are hung high for boys and men to reach. Women make the task harder by throwing coloured water on them and signing songs. In the last few years, widows in Vrindavan, along with those from Varanasi, have started celebrating Holi, with colours anointing not only their joyous faces but lives as well. As colours of Holi paint their plain white saris, the happiness is evident in their smiles, in their laughter.
History has it that the freedom fighters who fought in India's revolt of 1857 had organised a fair in Kanpur. This was called Ganga Mela as it was held along the banks of river Ganga, and continues to be organised till date.Holi is given a musical touch by the neighbours in Uttarakhand, who celebrateBaitihki Holi, Khari Holi and Mahila Holi, with Holiyars singing classical ragas. Punjab celebrates Hola Mohalla, a 3-day event where martial arts are depicted, fairs are held, and folk theatrical performances take place. Guru Gobind Singh had initiated this, the last of ten Sikh gurus.
Pushkar in Rajasthan is a special place on Holi. A holy town, it is suggested to keep your camera ready- waterproofed and on a full battery- because there are going to be a plethora of pictures and videos. At least a thousand people with hands up in the air, dancing to the techno music, covered in blue, green, pink, red, yellow, all wet and happy would greet you here.
Not without Gujiya, Kaanji and Bollywood!
Any festivity is incomplete without food and music. Gujiya, a deep-fried sweet packing milk solids and dried fruits in a flour shell, is especially made on Holi. It is a hard to resist delicacy, and nothing makes Holi better than Gujiya. With lots of carbs going inside our bodies, a drink to cool it all down is essential. Kaanji does wonders for this. Beetroot infested tangy water is taken in copious amounts by
everyone as they enjoy the Holi celebrations. Bollywood fulfilled our wishes as it created many songs for the festival. Peppy thumping music, dancing people with faces coloured, and food to keep the energy levels high- Holi is a beautiful celebration of the oncoming spring and summer.
As Holi festivities spread colour and love, people are now moving to organic colours instead of chemical ones. The latter would cause skin allergies and are now being replaced by their organic counterparts. Often, like the olden days, people use natural colours made from dried leaves and flowers. So turmeric, henna, neem, sandalwood, indigo, beetroot et cetera are used to colour each other on the colourful festival.
Holi is a celebration of spring, love, bonding, colour and new beginnings. People often travel to various parts of India and the world to partake in the revelry on this vibrant festival. Dear reader, go ahead and experience a different Holi this year, I encourage you to. Go explore the rituals that are followed at other places, the delicacies you can treat your taste buds to, and the addition of a new experience in your arsenal. I wish the readers a happy, safe and blessed Holi.
Happy travelling to you!