Le Meridien is a Marriott global brand with a portfolio of more than 120 luxury and upscale hotels in over 50 countries worldwide and 10 operating hotels in India (us being 11th as of now). Le Meridien has always been known for expanding the horizons of every avid traveller. Whether through unlocking a destination for the travellers to experience something new or by promising them a discovery of new adventures, varied cultures and a sense of exploration with luxury and comfort. Turning the limelight to the city of BIRYANIS, Le Meridien Hyderabad will let you escape into a world that seamlessly merges the glorifying rich heritage with the rapid surge of technological advancements.
Based in Gachibowli, a corporate district home to all the business parks with tech company offices, Le Meridien Hyderabad comes not only as a respite to that business personnel who are looking for a way-out from their cramped-up meeting schedules but also comes as a land of diverse taste and vibrant history for all the travellers. Positioned strategically, one doesn't need to worry about being jet-lagged on his business trips.
Accommodation
Facilitated with 241 rooms equipped with 145 king rooms and 79 twin rooms across the deluxe and executive categories and 17 suite,  guest accommodation has been prioritized keeping in mind the comfort and spaciousness every guest would seek on their travel. With added amenities of a mini-bar with a refrigerator and an electronic safe, every room is a heaven itself.
Features
Hyderabad boasts a wide spread of delights and local flavours epitomized by the F&B outlet Turquoise that caters to Modern European/Asian Buffet with a semi-open kitchen and comes with a co-located lobby lounge Éclair. Also, the hotel hosts the Latitude Bar to assist you on your every toast of Success. Personalizing as per the taste of the guest, the team of culinary experts will plate up everything you crave.
The Highlight of the property is the Grand Ballroom that can host up to 700 guests and is perfect for weddings of all magnitudes. Also, the property hosts a meeting room for you to convert your plans into actions and actions into successful results.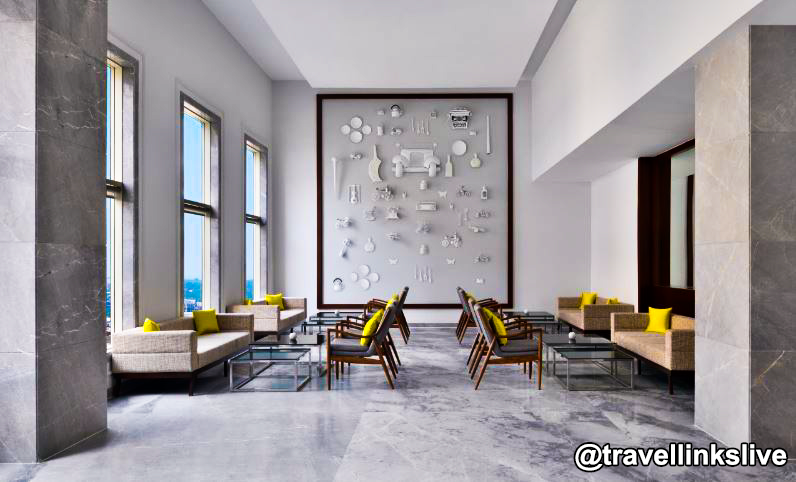 In an attempt to make travelling more fun and friendly, every traveller can fetch even better deals and offers with the Marriott Bonvoy Programme where members can double and triple their travelling fun. And being situated just 30 kms from the airport, Le Meridien Hyderabad has been conceptualized and brought to practice for the love of travel and for the love we have for our travellers.