Introduction
As you enter the gates of Shangri-La Eros New Delhi, the well-groomed staff greets you in the lobby and escorts you to 19th Floor in Horizon Lounge of Shangri-La. Friendly chitter-chatter and sparkling wine greet you with the most serene view of the city. A little know-how and we already start feeling excited about what lay ahead.
Launch
What lay ahead was a le petit technology bomb, a technology that makes you think, oh is this also possible? Are there so many geniuses in this world doing crazy yet mind-blowing things? These are the times when you exactly know why the world calls technology 'a boom'.
The General Manager Abhishek Sadhoo introduced us to the culinary adventure of the world's smallest chef Le Petit chef at Shangri-La Eros New Delhi and Balraj who had the narrative that kept us wanting more.
The doors opened with the launch which is fun exciting, and interactive with story narrative, inquisitiveness, and wonder moments like Oh-ah, is this possible? Yes, it is with a must-try 3D immersive dining experience at least once in the city.
Le Petit Chef, the world's tiniest chef standing at a mere 6 cm tall, made his debut in the capital city. This viral sensation has enthralled diners across renowned restaurants worldwide, from London to Singapore, Dubai to Kuala Lumpur.
Experience
The experience is fun dining, inquisitive, friendly, and evokes the interest of children and adults alike for both vegetarians and Non vegetarians.  The fine dining experience is a visual treat for the eyes as well as your taste buds. I specially liked the smoked truflle burrata and the sweetdish was my favourite item, I could say, not to forget the wine pairing to go with it.
Price point: INR 16000 per person + taxes (wine paired)
INR 16000 per person + taxes
SALAD
Truffle Burrata
SOUP
Classic Minestrone
LASAGNE PRIMAVERA
BAKED RICOTTA & SPINACH ROULADE
DESSERT Chocolate Pot de Crème
Kids' Menus have a special price point.
Shangri-La also offers various deals for the whole experience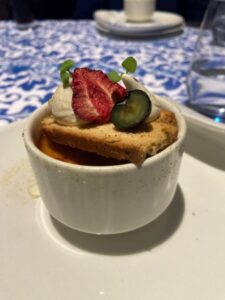 Review: It's worthy to be tried at least once, primarily for its innovative technology, taste, and inquisitiveness. The only catch here is the punctuality and precision
Suggestions:
As it's a family theme specially to hold the interest of kids, maybe inclusion in the menu which is kids friendly.The narrative of the story could change, keeping in mind how we can complement the oceans, nature, and the planet  than juggling with it. 
For bookings:
https://booking.lepetitchef.com/newdelhi/06-2023/2-pax