When we look back in our childhood, all we can see is life full of colours. Life is always full of surprises but the colour of childhood memories is something, which stays with you forever. For me my most memorable journey has always been visiting my grandma's place, Kolkata during the summer vacation.
Though, today I have travelled many places around the country and so, but the path that takes me to my Grandma's place have always remained very special.
Those were the Days…
The train journey, the hawkers calling 'Chai-chai', the fight with sibling for the window seat, and gossip with sibling on the upper birth, these are some beautiful colorful page of my childhood.
Entire year, we used to wait for the summer vaccation, and before the vacation would start our tickets for our home-town Kolkata, would be booked in advance. Shopping for the vaccation would start a month prior to the vacation, and packing continues till the last day before leaving the house.
Then finally the day arrives, when we would be all ready to start our journey for our most beloved place, 'Kolkata'. There is a very beautiful song in a bengali movie, 'Kolkata, tumio hete dekho Kolkata', this song tells you if you want to see the real beauty of Kolkata, walk down the streets of Kolkata. Though, I am a Delhite, born and raised in Delhi. But the warmth, the charm of this beautiful city Kolkata, always attracts me.
Being raised by a super awesome dad, we were taught to be content and happy with whatever you have, and appreciate each moment. With these thoughts in mind, we used to start our journey, a 3-tier sleeper train journey 20 years back, was so full of life, which a flight to Kolkata couldn't replace ever.
The journey used to continue with long chit chats, and enjoying every other snacks, that hawker will get, whether it is Bengal special 'Jhalmuri', or 'Ghugni', or Kanpur's famous 'Aaloo Puri'. Train from Delhi to Howrah was an overnight journey, and still is. You can sense Kolkata is not far, when you can see the change in the landscape, the leaves in the tree are greener, number of coconut trees, palm trees, Mango trees increases the more you approach towards the eastern India.
So, the next morning, small ponds in the villages, large fields of countryside welcomes you to West Bengal, and finally when you hear your parents saying, get ready 'We reached Howrah', that used to be like music to my ears.
Majestic Howrah…
'Howrah Station is one of the primary station serving Kolkata, other than 'Sealdah'. It is also one of the oldest and largest railway complex in India. Moving ahead, as we come out of the station our cousin and relatives would be waiting for us, to take us home in the Yellow Taxi.
Yes, 'Yellow Ambassador' is the PrePaid taxi service of Kolkata. This yellow taxi used to take us to our destination crossing the famous Howrah Bridge. Fresh breeze from the banks of river Hooghly, which flows between Kolkata and Howrah, used to make the journey much more memorable.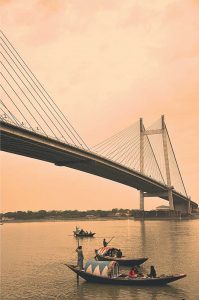 Howrah Bridge again has its own legendary story to tell. Howrah Bridge is the most iconic symbol and pride of the people of Kolkata. It is one of the most popular bridges in India. This bridge was made of 23,000 tons of steel by Tata Steel; however, the most interesting fact about the bridge is that there are no nuts and bolts in the structure.
Steel riveting was done in place of nuts and bolts.
The journey from the station to my grandma's place used to take an hour or so, which is little less now, thanks to the new roadways and better managed traffic. The experience of the childhood was very different from what it is now, taxi used to drop us to the nearest possible point, as the roads still used to be kuccha, and narrow, ponds were there on either side of the lane. This is now replaced with multi-story society complexes. So, I am not really sure, whether, I am happy that now, we have proper roads, that drops us right in front of our house, or I was happy when we actually used to walk down those narrow lanes.
Bengali and Our Love for Food The day in my grandma's place used to start with nice sumptuous Bengali Lunch, prepared by my aunt, which used to include, Steam Rice, Ghee (Clarified Butter), Aalu-posto bhaja (Potato Fried with poppy seeds), Bhaja mugger daal (Lentil Soup), Begun Bhaja (Brinjal Fry), Macher Jhol(Light Fish Curry), Mishti Doi(Sweet Curd), and finally the Rosogolla.
And I am blessed, that even though my grandma is not anymore, but we are still served the same, with much love and warmth.
Kolkata and Bengali as a community are known for their love for food. Even when we are having lunch, in the dining table at that very moment we will be discussing some other food preparation, and will be planning for the next meals menu.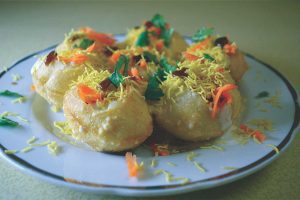 Some of the must try food that one should explore, when travelling to Kolkata are: 'Phuchka', unlike 'Golegappe', the water used in this is tamarind water, with spicy potato mash filling inside. 'Churmur' another such street food, which the same vendor can offer, which is another delicacy one must try. 'Phucka' competition with the cousins was a must, which was how many one can have. And we maintained the ritual, to have this competition even now, when we visit our hometown.
Kolkata Roll, is another mouthwatering street food which is getting quite popular these days, even outside Kolkata. The specialty is the filling inside, the ingredients used, and one such ingredient is Kasundi(close to Mustard sauce), but have its own tangy flavor.
In the main course, the most popular is Kolkata Biryani. Now, many of you may actually think, Biryani is Biryani. What is special about Kolkata Biryani? Well, the Koklata Biryani is inspired by Awadhi style, and has a very unique flavor, not much spicy, very mild, and along with your juicy mutton pieces, it is served with a Potato, and Boiled egg. The aroma, itself will wins your heart, if you are a food lover. 'Arsalan Restaurant' is one of the most famous destinations to get the best Biryani. Kosha Mangsho (Mutton curry) is another most loved dish from the city.
Kolkata: The City of Celebrations
For me, Kolkata was the most favorite destination for summer vacation. Though, it is a bit humid at that time. The ideal time of the year to visit Kolkata and other majestic parts of West Bengal is around February March. Once, I did manage to enjoy the beautiful weather of Kolkata, in the month of March.
This is the time when the country celebrates the festival of colour, in West Bengal they celebrate the same, and call it 'Dol Purnima'. Though like any other parts of India, this city too gets immersed in colour, but celebration of 'Dol Purnima', celebrates the love of Lord Krishna and Radha. Believe is that the Lord Krishna expressed his loved to beloved Radha on this special day.
'Dol Utsav' is something one should not miss, if you are in West Bengal around this time of the year. 'Dol Utsav' also known as 'Basanta Utsav.' The legendary Nobel Laureate Rabindranath Tagore introduced 'Basant Utsav' in Santiniketan, Birbhum district of West Bengal to refabricate the magic of Holi.
With the onset of spring the entire Visva-Bharati University which was founded by Rabindranath Tagore gears up to be painted in different shades of colors. My visit to the university during the 'Dol Utsav', is one of a lifetime experience.
Though, the primary theme colour that takes the centre stage is yellow color, but you can see different shades of bright colour of spring around you. Students and faculty clad in yellow colored clothes. University also presents spectacular cultural programme by the students. The colours of spring, music in the air, make the festival worth cherishing for lifetime.
Talking about festivity and not mentioning 'Durga Puja' will be an injustice to the reader, West Bengal is the birth place of 'Durga Puja'. When the northern India is busy celebrating Navratre, Bengalis celebrate the homecoming of their beloved daughter 'Durga', from Kailash. The city gets ready like a new bride, shinning, and glowing with happiness.
Coming back to days of childhood, and my Kolkata diaries, some places left lasting memories are, my Tonga ride from 'Victoria' to 'Maidaan', magical 'Birla Planetarium', The 'Alipore Zoo', the adventurous 'Science Museum' and last but not the least the famous 'Park Street'.
The magic of Park Street, I realized much later in my life. Park Street is known for its old colonial mansions, famous restaurants, and for nightclubs which exist since the glory days of the 60s.
My Kolkata vacation always used to be incomplete, without the tram ride. Initially, it was an important means of transport, but at present it is more popular amongst the tourists. Running alongside the other vehicles in the busy street, the charm of tram cannot be ignored. Trams have been an inherent part of the history and culture of Kolkata. In India, Tram ride can be only possible in Kolkata.
My dad, never used to miss the opportunity to make each vacation memorable, whether it is tram ride, my first metro train ride, or a boat ride from Dakshineshwar Temple to Belur Math. When family is together, everything around you becomes special and colourful.
From Kolkata as a pivotal point, we also made it a point, to explore some new destination of West Bengal in each
vacation. Sometimes, it was 'Darjeeling', sometime it was 'Dooars', sometimes we explored the 'Raj Baari' in 'Mednipur', sometime we explored the beauty of 'Maithon Dam', in 'Assansol'. Lush green fields, experiencing the tides in Ganga river, sitting in the 'Princep Ghat', and sitting in tranquility is only possible in this city of joy. Where, people are just looking for opportunity to celebrate life.
As we grew up, the number of visit to this city of joy kept on reducing. I miss all those beautiful innocent days when we used to hold the finger of our dad, and were always ready to experience something new. Now, it is the wedding invitation, or some other family that takes us to Kolkata. But, I really wish to explore much more colours of this beautiful city, which has lot more to offer.
In comparison to other Metro cities, you might not see Kolkata as a very happening city, but the city has lot more in its palate.
One must visit at least once, with enough days in hand, to cherish the beauty of this beautiful serene city.