The invitation for the Hotel Review by Jaipur Marriott took us by surprise due to the unresting situation of the farmer's protest. Never the less the hospitality, affection, and the guest service after reaching there made us forget the minor glitches the moment we entered the premises.
The sanitization protocols were to the 'T' and at every step of the way, guests are made to feel safe, relaxed, and looking forward to a memorable stay.
Nestled in the pink city of Rajasthan, Jaipur Marriott is ideally located with approximately just 5 minutes drive from the airport and close proximity to the city; it makes it an ideal location for all sorts of occasions, be it MICE, weddings, private small functions or even to just grab a good evening with family and friends.
The Hotel has 366 spacious rooms which include 17 luxurious suits. They have a wide variety of restaurants and food experiences to offer, which have dramatic and modern settings. The Lounge 18 bar pampers you with hand-crafted cocktails and a very sheek and classy European feel to it.
Okra is their award-winning all-day dining restaurant and has global cuisines to offer. Saffron on the other hand is a contemporary Indian cuisine restaurant with modern settings.  Jaipur Baking Company boasts of handcrafted cakes and freshly produces where one can indulge in coffee and conversations. The Hotel also offers grills by the poolside with wonderful delicacies prepared by the chefs.
Our food experience was nothing short of a fairy tale and we were pampered with the local organic meals to the most modern versions of Japanese, Italian, grilled, and twisted personal touches of the chefs who are skilled in creating a live experience.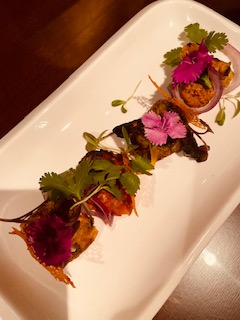 What makes is very special and memorable is our heart-to-heart conversation with the GM, Directors, chefs, and most of the staff who were more than willing to give us very valuable inputs about the insights of the functioning of the Hotel and its daily course of actions. In my opinion a Hotel is not just a hotel, it is a pulse that beats every moment, it is a life in itself and a hotel is not just a property, its blooms and thrives because of its staff and the people who run the Show.
Our Interactions and the brief about the fraternity:
Rahul Maini – General Manager, Jaipur Marriott Hotel
He is an experienced hospitality professional with a passion for operational excellence and guest engagement, having over 20 years of versatile accomplishments in the hotel and food & beverage operations. He accomplished his performance objectives with his steel grit and determination. This included management, planning, and marketing, coordinating and administering hotel services.
He holds a Diploma in Hotel Management, Catering Technology and Nutrition from the National Council of Hotel Management. His career with the Marriott brand began with the Marriott Executive Apartments and Renaissance (Mumbai), in March 2001. He moved to various luxury Taj properties like Taj Palace Hotel (Dubai), Taj Mahal Hotel (New Delhi) and Taj Lake Palace (Udaipur). He was later appointed as the Director of Operations at Courtyard by Marriott in Ahmedabad in 2011.
Dushyant Singh Naruka,  ​DIRECTOR OF SALES. He is self-motivated and a dynamic professional with 12 years + experience in Sales & Marketing, Business Development, Meeting Planner and Team Management, he is an enterprising person who possesses a wide range of knowledge and experience that allows him to contribute towards overall success. He is also a strong believer in consistency with procedures, service standards, and functional policies.
Leading with integrity, encouraging vulnerability, sharing information widely about the company's goals and strategies, empowering people by trusting them, building relationships by bonding with the team, recognizing their team's good work, appreciating their hard work and fairly resolve the inevitable conflicts in the team.
He started his career with Abercrombie & Kent in Luxury travel in November, 2006 and in 2009 decided to move to Sales & Marketing with Luxury Boutique hotel – Suryagarh, Jaisalmer. In 2011, he got an opportunity to be part of the pre-opening Sales team for Jaipur Marriott and in a couple of years he was promoted as Senior Sales Manager. In August, 2015, He joined Jaipur Exhibition and Convention Center and Novotel Jaipur Convention Center (ACCOR) as Associate Director of Sales and was part of another pre-opening team, before he moved back to Marriott to commence Jaisalmer Marriott Resort & Spa in September, 2016. March, 2018 he transferred back to Jaipur as Crowne's Meeting Director at Crowne Plaza Jaipur, leading sales and events planning team. In November, 2019 he joined back Jaipur Marriott Hotel as Director of Sales.
Dushyant Singh Naruka embraces 7A's : Accessible, Adaptable, Appreciative, Assertive, Assiduous, Astute and Attentive. 
​ Chef  Jatinder Singh Dhaliwal , Executive Chef  – He plays the role brilliantly in managing the entire portfolio" ( Please note what I admired most about him is to always giving credit and praising his team and showcasing them as front runners. Beyond just the designations or rankings, I could see a remarkable humble human being).
 ​He says, "Kitchen is like a home for me, I spend more time in my kitchen than at home with family, so my team is my family. Team plays an important role as Kitchen is not a one man's show. Together we perform better, with Chefs from all over India and from the neighboring countries. With Chefs from different regions excelling in particular cuisines, it is a treat to work as team with them and they are expert in their specific cooking skills".
 He is managing the entire Food Production operations, which include, Okra, JBC, Banquets/Events/Also In House Cafeteria and Kitchen Stewarding Operations.
He also says that "as a leader working with the team is important, for a chef has to constantly innovate, experiment and evolve at the same time have to maintain the authenticity of recipes and taste. The key is to always keep motivating them and challenge for achieving new dimensions and striving for perfection is what it takes to the play the role brilliantly".
 Dinesh Rana-  Ex. Sous Chef and what encouraged him to leave GOA and do what he loves doing the most."
 Chef Dinesh hales from Himachal Pradesh, and after working in Goa for quite some time he moved to the North.  The opportunity here inspired him to join here, he is a master of Italian and western cuisines, working with Expat Chefs, he has learned the authentic Italian cuisine of the region. Here at Marriott Jaipur, he got the opportunity to perform his skills and talent and have a different portfolio than working as a Restaurant Chef.
Working in Rajasthan was something he always craved for, as the food he says, here is very unique, yet popular and a treat to taste buds of the entire Indian palate.
Shubham Chopra
His journey with Marriott International started in 2019 from Marriott's elite Voyage Program as a sales & marketing management trainee at Jaipur Marriott Hotel. While he was a management trainee, he contributed substantially to hotel's room and catering revenue.
Later he also got an opportunity to explore Marketing role at Jaipur Marriott Hotel.
He graduated from one of the prestigious hotel school in India, IHM-Ahmedabad and has major in hospitality & hotel administration. He is someone who has a strong inclination towards Hospitality industry and the new immerging trends. On personal front, he enjoys cooking, reading and writing. He also run a hospitality blog by the name of The Hoteliers Talk and share his views &insights from the rapidly changing landscape of hospitality industry.
My Special Thanks to Shubham who was on his gauard 24X7 during our stay and fulfilled all our needs and went out of the way to make us comfortable .
My final verdict about the property
Centrally Located
Ideal of Mice and events
Multi Cuisines facilities
Indian touch with a touch of glamour
Modern settings
Comfortable Luxury