Different states and areas of India celebrate Makar Sankranti under various names. In Haryana and Punjab, it is known as "Lohri," whereas in Tamil Nadu, it is known as "Pongal," in Bihar, "Khichdi," and in Assam, "Bihu."
In the Hindu calendar, Makar Sankranti is a lucky day. People celebrate this holiday with great delight and zeal all over India. Hindu believers go to temples, take their daily baths (early in the morning), and then pray to God, asking for family-wide invocations.
Different states and areas of India celebrate Makar Sankranti under various names. In Haryana and Punjab, it is known as "Lohri," whereas in South India, it is known as "Pongal," in Bihar, "Khichdi," and in Assam, "Bihu." The family kite-flying festival, however, takes place in Gujurat on this auspicious day, where families and friends gather on the terrace of their various homes to compete in gliding kites with neighbours and relatives.
We've compiled a list of locations in India that celebrate Makar Sankranti in unique ways and with tremendous significance to give you a better idea of how Sankranti is observed around the country. For international travellers, these vibrant Indian festivals are the perfect opportunity to experience the local culture.
Sankranti, Orissa's Bhuya Tribes
In Odisha, both Anarya and Arya, or Adivasi (Tribal caste) in general, celebrate Sankranti in great numbers. The festival is observed with great passion and joy in the districts of Mayurbhanj, Sundargarh, and Keonjhar where the tribal minority makes up more than 40% of the population. For approximately a week, they sing and dance while enjoying life. The Orissan Bhuya (tribe) families hold their own Maghyatra during which tiny handmade goods are offered for sale.
Typical Cuisine: Dhanu-Maun
When: January 15.
Punjab's Lohri and Maghi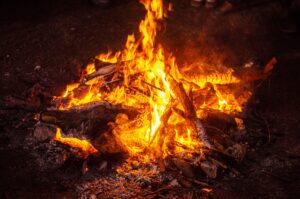 The final of the winter's coldest days are known as Lohri. Along with Punjab, residents of the Northern Indian states of Haryana, Delhi, Himachal Pradesh, and Jammu become very busy with festival preparations.
Typical Dishes: Gajak and Rewri
When: January 13–14
In Andhra Pradesh, Makar Sankranti
Makar Sankranti is a four-day festival in Andhra Pradesh. The first day is Bhogi, during which old items are burned in a bonfire as music and dancing are performed all around it. People decorate their homes, paint rangolis, wear new garments, and make the auspicious dish Pongal, which is made of rice, milk, and jaggery, on this auspicious day. For their contribution to the produce, cattles are revered and honoured.
Ariselu is a traditional food.
When: January 14–17
Uttar Pradesh's Sakraat
On this auspicious day, Hindu believers in the state of Uttar Pradesh immerse themselves in the sacred Ganges. Allahabad hosts the Magha Mela, a significant carnival. Before enjoying delicacies like Gud Laddo and Til Ladoo, devotees first take a morning shower (in Bhojpuri, Tillava is called this). A popular activity during the festival in Uttar Pradesh is kite flying as well as other things.
Traditional dishes include til laddoot and gud laddoo.
Date: January 14, 2015
Gujarat's Uttarayan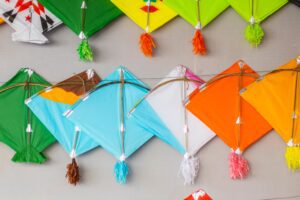 Gujarat, one of India's important states, is a great spot to be during Sankranti or Uttarayan. Every city in Gujurat is a kaleidoscope of vitality, from food stalls selling delicacies to marketplaces selling multicoloured kites and the colourful Manjha (the thread tied to the kites).
Typical Dish: Undhiyu
When: January 14–15
Maharashtra's Makara Sankranti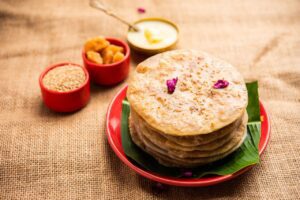 Maharashtra is one of the South Indian states where people visit each other's houses to exchange sweets and traditional fare like tilgul (made of sugar granules, sesame seeds and jaggery). In addition, women wear black sarees and accessorise with sugar granules on this auspicious day.
Traditional Cuisine: Gulachi Poli with Tilgul
When: January 14–15.
Himachal Pradesh's Magha Saaji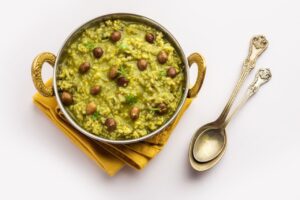 In Himachal Pradesh, Sankranti, also known as Magha Saaji, is observed as the start of the new harvest season. Magha Saaji is observed with considerable fanfare and splendour.
Khichdi with ghee and chaas is a traditional dish.
When: January 14–15.
In
Tamil Nadu, Pongal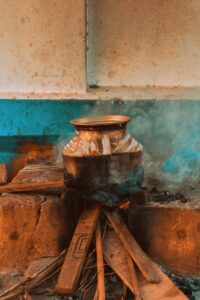 The ritual include creating striking and distinctive rangolis and serving the traditional dish Sakkarai Pongal, which consists of rice cooked in mud pots and jaggery. Mango leaves are hanged at the front door to honour the celebration, and the house has been cleaned and adorned. Additionally, there are special poojas to recognise the function of cattle throughout the harvest.
Murukku and Payasam are traditional dishes.
When: January 14–16
Assam: Bhogali Bihu or Magh Bihu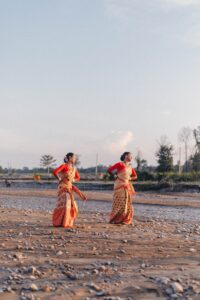 Bihu, which honours mother earth for supplying food and crops, ushers in a fresh harvest season. The festival is marked by traditional dance and campfires. Popular Assamese games like Tekeli Bhonga and buffalo fighting are often played during ceremonies.
Traditional fare includes laru and til pitha
When: January 14–15
Karnataka's Makara Sankramana
For farmers in Karnataka, Sankranti, also known as Makara Sankramana, is a significant holiday. Makara Sankramana include thanking the gods for a bountiful harvest, donning new attire, and creating fresh rangolis. The Ellu-Bella concoction, which is served to neighbours next door and is a mash-up of jaggery, fried groundnut, dried coconut, and white sesame, is the highlight. Women also exchange bananas, sugarcane bits, Haldi, and Kum Kum in addition to this. Cows receive traditional prayers before being led on a joyous procession.
Typical Cuisine: Ellu Bella
When: January 14–17