Commonly known as the "Heart of India", Madhya Pradesh or Maheshwar is well known for its vast culture and history that it consumes. One of the richest states in terms of natural resources, it is the most diverse in all of the states in India, as it has various dense forests, ancient temples, lakes, plateaus, and rich lifestyles. 
Talking about the heritage of Madhya Pradesh, Maheshwar is one of those places where one should definitely visit. Maheshwar in Madhya Pradesh is the town which is located in Khargone District, on the banks of Narmada River. When talking about the history of Maheshwar, one should definitely know that this city is named after the Hindu God, Shiva. The legend says that the city is built on the ancient city of Mahishmati. 
MAHESHWAR FORT
Built high above the Ghats of Maheshwar, one must surely visit this 250-year-old Holkar Fort. This Maheshwar Kila was built by Maratha queen Ahilyabai Holkar. Commonly known as Maheshwar ka Kila, it was the capital of queen Ahilyabai, where she ruled from 1766 to 1795. On the occasion of a three-day celebration of "The Sacred River" festival, flowers and Diyas are put all over the fort in the evening. This festival depicts classical music, dance, and vocals performed against stunning backdrops. People come to take a dip in the Narmada on the occasion of Mahashivratri. Thus, this becomes an exquisite site to watch and reminisce about in the future.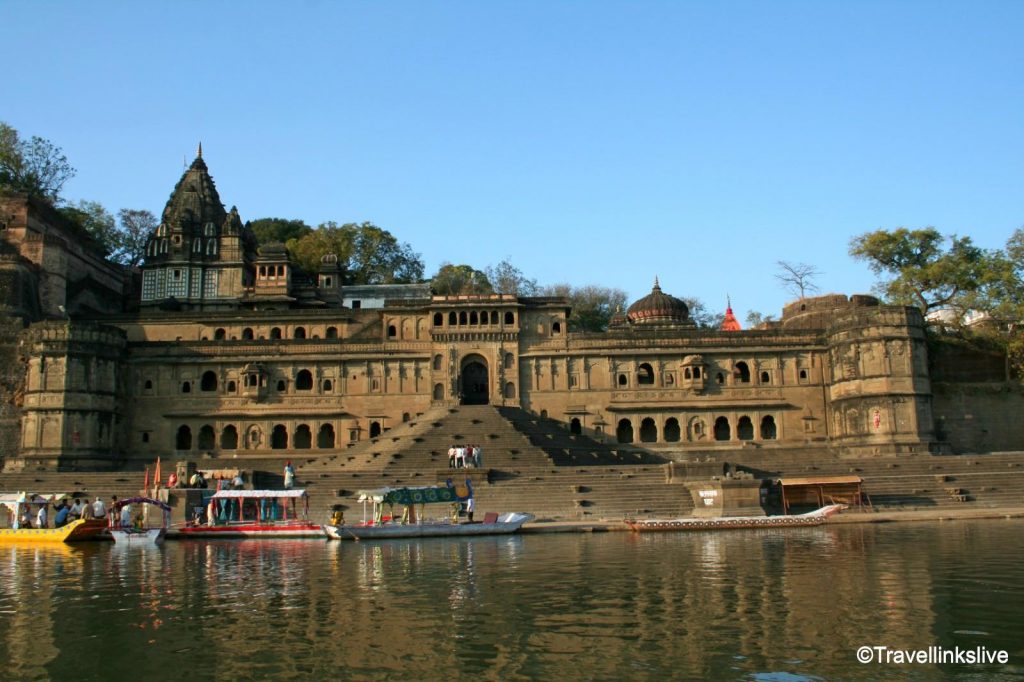 Various other historic places to visit in Maheshwar are  Temples like Jaleshwar Temple, Pandarinath Temple, Ahilyeshwar Temple, and many more. Along with these temples, the famous Narmada Ghat is also one of those places where a tourist should definitely go, in order to experience the local life of this exquisite religious place. 
SHOPPING 
Shopping of Maheshwari sarees is mandatory once you visit Maheshwar. These sarees are famous for their pure cotton material. Maheshwari sarees are specially woven and designed in Maheshwar and are the finest in the country. Jari Buta Saris is another variety of the famous sari collection that one gets to buy. A good scenic spot plus a good shopping experience is what makes the place stand out from the rest.
WEATHER
When we are talking about visiting a place, we definitely check out the best time to visit. Thus, the best time to visit Maheshwar is from October to February. Being situated near the equator, this temperature of Maheshwar hikes up to 45 degrees celsius, thus making it difficult to explore the city. 
Best Possible way to reach Maheshwar
Air:-  Nearest airport is Indore (91 Km)
Rail:- Nearest railheads are Barwaha (39 Km), Khandwa(110Km) and Indore (91 Km)
Road:-  Regular buses are available from Barwaha, Khandwa, Dhar, and Dhamnod.
CONCLUSION
Lastly, The Heart of Incredible India holds many under-rated, ecological places to visit which promotes sustainable tourism, which is the need of the hour, in this world. Thus, go-around and visit this place, in order to know more about the Indian history.