Dilli haat, a place full of colours, heritage, zeal and emotion. Travel Links brings to you the best of Dilli Haat. As soon as you step in, you know that this place is like no other. Many people say that Dilli haat is a mini-India and the place does a justice to this. When you look around, you see so many different items. You see such unique artefacts which are a witness to the traditional richness from all around the country. You can sense that each part of the country has poured it's heart out just for you. Dilli Haat market is recreational and artistic in nature. This market is an initiative by the Delhi Tourism that provides a platform to many artisans from various Indian states who were otherwise limited to their own villages or towns. The stalls here are allocated on a rotational basis of 15 days so that the buyer gets a new product every time she visits.  We at Travel Links have captured the heart of this market just for our readers.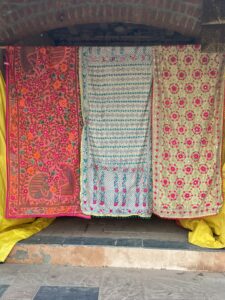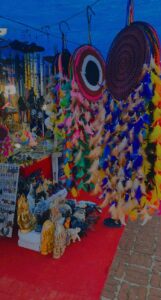 Shopping Spree
The place welcomes you by displaying beautiful Mahogany paintings right at the entrance. Those are such beautiful pieces of art that with mesmerize your eyes. You will also see some exquisite carpets that will be fit elegantly in you homes. Moving forward, you will find charming pair of juttis and sandals in various colours and patterns. The place also possesses various handicrafts made of jute. Ranging from bags, stools, baskets, trays and what not. Now, let us talk about something that is the most alluring to females – jewellery! Dilli haat is the hub of jewellery. It is stocked with bewitching jewellery that one can wear. Some pieces of jewellery are artificial but some are made from pure chandi(silver) and pearls. You can find jewellery that is as basic as daily wear to elegant and heavy jewellery pieces that are perfect for social gatherings and special occasions. We at Travel Links felt magical being surrounded by such mesmerizing artefacts. Everything around was nothing but beauty in this absolute form.
Something for your Gut
After immersing through the colourful shopping spree, it is now time to indulge in the culinary delicacies of Dilli Haat. There are many eateries set up by different states of India. Food from all different cuisines is available for you to enjoy. Yummy dosas, vada-pavs, momos, dhoklas, kebabs and so much more for you to try and enjoy. An open sitting arrangement has been made for your comfort. The staff is very polite and mostly native. The service is quick and convenient. You can enjoy your tasty meal amidst the lush surroundings. We at Travel Links Magazine took all the precautions respecting the safety norms due to the current pandemic. The staff here had also done the same.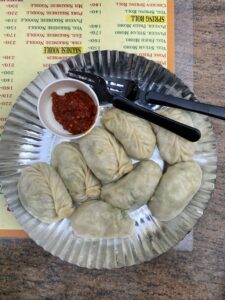 Covid Times
It was extremely saddening to discover how Covid has affected such a delightful and aesthetic place like this. The pandemic has led to the closure of some shops thus making people lose their businesses and jobs. Handicrafts and Arts like these do not have may outlets to showcase their richness and cultural heritage. Hence, we should support such small businesses to preserve our cultural diversity in such forms. Delhi tourism is putting in full efforts to sustain this place to the best. Let us all decide to travel to such places and make some cherishable memories alongside helping the artisans. This is an initiative by Travel Links to promote ecotourism.
To know more about the such interesting and exquisite places check out https://travellinkslive.com/, one of the Top Travel Magazines in India.
Dhruvi Chawla