Best time to visit Manali is necessary to know if you are planning to visit Manali anytime soon. Kullu Manali is well-known as India's top snow destination. The hill station is renowned for its yearly snowfalls and frigid environment throughout the year. The best time to visit this tourist destination truly depends on what you're looking for on your trip; the summer season is usually busy with families and leisure visitors owing to school and college holidays, whilst couples and honeymooners mainly choose the winter season. August, September, October, and November are the quietest and most simplest months to locate affordable lodging.
Despite being a clichéd tourist site, there is a reason why this small village attracts throngs of visitors every year. Manali has a lovely environment with a continual cold in the air, which makes the sun's rays feel refreshing as they contact the skin. Manali tourism is quite stunning, and it is a must-see destination.
What is the best time to visit Manali?
Manali is best explored between the months of October to June. With vibrant, beautiful flowers in flowering and a moderate temperature range of 10 to 25 degrees Celsius. In Manali, the months of December to February are perfect for snowfall. With its snow-capped surroundings and subzero temps, Manali turns into a winter paradise. While visitors visit Manali all year, the monsoon season (July to August) is less popular owing to landslides and land blockages.
Summer in Manali (March – June)
Temperature – During the summer, the air temperature ranges between 10°C and 25°C.
Weather – Located in Himachal, the sun's rays cut through the whites of this hamlet and give way to the greens. The summer season brings new life to Manali, with the days being delightfully warm and the nights bringing some cool air. As a result, summer is the most incredible season to visit Manali. The pleasant weather also allows you to indulge your inner adventure by participating in rafting, paragliding, and hiking sports.
Significant events — This popular tourist location is busiest at this time of year not just because of the beautiful weather but also because of the numerous distinctive festivals and events fundamental to this hamlet's culture. The Doongri forest festival is the season's highlight, organized by ladies dressed in traditional garb as a devotion to their deity Hadimba Devi. If you visit Manali in May, you might be able to see this lively age-old custom. The Hadimba Devi festival is a fantastic site not just for believers but also for photographers to capture the dazzling ambiance surrounding them.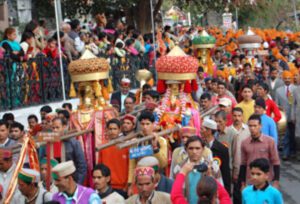 Why should you go now – This time of year is filled with events and humming with tourists since it is peak season. With this hills wonderland studded with beautiful landscapes in full bloom, various sightseeing and adventure activities are available, particularly during the day. If you've ever wondered what it's like to fly through the sky, head to the Solang Valley to do some paragliding. Solang will also take you to snow-capped peaks such as Mount Ladakhi, Mount Hanuman Tibba, and Mount Friendship.
Tips – Base your activities and schedule on the weather. Because the temperature drops after nightfall, finish all touring and outdoor activities before the sun sets for the day. Make sure you carry warm and cold clothing, sunscreen, and sunglasses.
Manali during the monsoon season (July–September)
Temperature – During the monsoon season, the air temperature ranges between 10°C and 16°C.
Weather – This time of year brings severe downpours with the possibility of landslides. Manali, on the other hand, appears to be spanking new as a consequence of the rain showers. This season sees a significant decrease in the number of people visiting this region, making it a sight to see but a struggle to explore.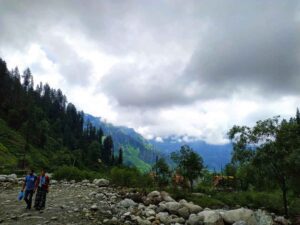 Significant occurrences – The danger that looms over Manali during the rainy season has never dampened the enthusiasm of this place and its inhabitants. The Haryali festival, which marks the beginning of the rainy season, is one of the season's primary attractions. Before the event, seven different seeds are planted near the home deities. The rains are then greeted with some customary singing and dancing. Local farmers also participate in this celebration with zeal.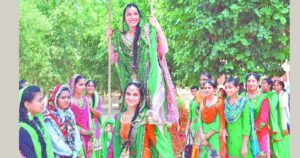 Why should you go now – Away from the crowds and rush of visitors, this season is excellent for spending time alone with your family. As a result, if you want to take the less-traveled path, now is the time to visit Manali. While it is best to avoid trekking at this time, you may visit Jogini Falls or one of Manali's lovely monasteries.
Tips – Bring lightweight, waterproof clothing to protect oneself from the monsoons. When going out, always have an umbrella. You may also learn more about how to go to Manali.
Winter in Manali (October – February)
Temperature: During the winter season, the atmospheric temperature falls below 0°C.
Weather – As the snow begins to cover the hamlet, the weather in Manali becomes quite chilly. Temperatures drop more as the days pass, and adventure seekers travel to this region in large numbers to participate in various activities.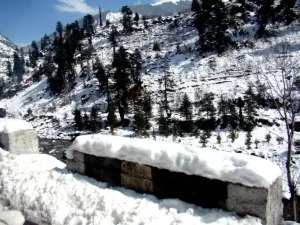 Significant occurrences – The winters cover Manali with pure splendor and mounds of snow. Despite the fact that the month of December is associated with celebrations and festivities, the Winter Carnival is celebrated in February. Manali is synonymous with white at this time of year, and winter activities are in full flow. Indulge in some warm comfort cuisine, ski down the cold slopes, and enjoy cultural activities. Enroll in as many activities as you desire, or just warm your spirit by binge eating.
Why should you go now – Make a snowman with your family or fling snowballs at them for fun; this time of year is snowy heaven. Snow may be found at Gulaba, Marhi, and the Rohtang Pass. At the snow sites indicated, you may participate in various snow sports, such as snow tubing and skiing. Furthermore, this is the time to obtain exceptional rates on hotels and other forms of lodging.
Tips – Carry a variety of woolen garments, thick coats, mufflers, and gloves to remain warm. Stay hydrated by consuming tea or water at regular intervals.
Final Thought:
So, when do you think is the best time to visit Manali? Tell us about it in the comments section below. It's beautiful to get away from your hectic routine and see new locations, and when it's Manali, what's stopping you? You're not genuinely leaving your comfort zone if you usually stay at home and bounce between work and home. You've settled into a pattern in which your heart doesn't need to miss a beat all that frequently. Travelling produces the opposite impact. Because you are in a new area with a new culture and things are different, you are compelled to leave your comfort zone whether you like it or not. Try new activities and begin to learn about life.