Budget friendly places to visit in India might seem complicated for you to find out in a country like India. India is a large nation, and determining the finest spots to visit in India may be a difficult challenge for first-time tourists. Especially in India, a vast Asian country with a diverse cultural heritage, you must be extra cautious about picking the best of India. You don't need to plan ahead of time or spend a lot of money to give yourself and your family a little vacation to recharge. There are numerous inexpensive places to visit in India that provide just as fantastic a journey as an exotic destination. Here's our list of 10 budget friendly places to visit in India without breaking the bank:
Puducherry (Pondicherry):
Puducherry is a bit of France in the Indian heartland, with stunning beaches, cobblestoned streets studded with colonial buildings, and peaceful cafés serving some of the greatest French gastronomy in India. Puducherry also has a lot to offer those looking for peace and calm. The options are endless for long walks along the Bay of Bengal, yoga and meditation sessions at Sri Aurobindo Ashram or a quick trip to Auroville.
Best time to visit: October to March
Ideal Period: 2-3 days
By Air: Chennai International Airport (144 km) is the closest airport.
By Train: Puducherry Railway Station is easily accessible from Chennai, Trichy, Madurai, and other important South Indian towns.
By Road: Puducherry is well-connected by road to all major cities. The East Coast Road (ECR) is a three-hour picturesque trip from Chennai to Puducherry.
Average cost (stay and meals): around Rs 1000/day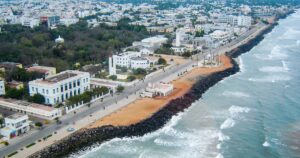 Pushkar:
One of Rajasthan's most important religious attractions, Pushkar, is also a hippy haven. The town is built around the famous Pushkar Lake, a Hindu pilgrimage destination with over 52 ghats where pilgrims can wash and make religious sacrifices. Although the city has several temples, the most notable is Jagatpita Brahma Mandir, which is devoted to Lord Brahma. Pushkar is also well-known for its livestock fair, also known as the Pushkar Camel Fair or Pushkar ka Mela, which takes place every November. Even if you are not a religious traveler, you should visit the laid-back town to slow down your fast and frantic life for a few days.
Best time to visit – October to March
Ideal period– 2-3 days
How to reach –
By Air: The nearest airport is Sanganer Airport in Jaipur (151 km).
By Train: Ajmer Railway Station (14 km) is the nearest station. Ajmer and Pushkar are easily accessible by bus and cab.
By Road: Pushkar is well accessible by road to the majority of significant cities.
The average cost (stay and meals) – is around Rs 1000-Rs 1500 per day.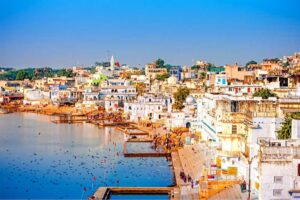 Kodaikanal:
Kodaikanal, one of India's most famous hill stations, is also known as the "Princess of Hill Stations." This charming tiny hill resort in Tamil Nadu is known for its gorgeous lakes, picturesque hikes, rolling hills, stunning pine trees, and perfect temperature. Unlike Ooty, even during peak tourist season, you will not find swarms of tourists in every nook and cranny of the place. Boating on Kodaikanal Lake, riding around it, or trekking to the next hilltop at night for a breathtaking glimpse of the Milky Way galaxy, Kodaikanal provides the finest of lifetime experiences without breaking the bank.
Best time to visit – October to July
Ideal period– 2-3 days
How To Get There – 
By Air: Fly to Madurai (120 km), Trichy (150 km), or Coimbatore (175 km).
By Train: Kodaikanal Road Railway Station (79 km) is the closest railway station and is well-connected to cities along the Dindigul and Madurai routes. From here, you may catch a cab.
By Road: Regular bus connections to Kodaikanal are available from Chennai, Pondicherry, Coimbatore, Madurai, and other important Tamil Nadu towns.
The average cost (stay and meals) –  Is around Rs 1500-Rs 2000/day.
Darjeeling:
The mere name of Darjeeling conjures up images of magnificent tea gardens and mesmerizing settings tucked amid East India's highlands. Darjeeling, one of the cheapest locations to visit in India, allows you to take home priceless memories of a vacation to the lap of nature. Nothing beats waking up to fresh mountain air and a nice cup of Darjeeling tea while watching the dawn over Tiger Hills. While you're there, don't forget to ride the famed toy train that goes from West Bengal's New Jalpaiguri railway station to Darjeeling through Siliguri, Kurseong, and Ghum. Since 1881, the Darjeeling Himalayan Railway has been in operation. The exciting toy train trip would entail crossing over 500 bridges and guiding through undulating plains and lush green valleys if you covered the whole 80-kilometer route.
Best time to visit – April to June and October to January
Ideal duration – 2-3 days
How To Get There–
By Air: The nearest airport to Darjeeling is Bagdogra, 12 kilometers from Siliguri (70 km). Because it is not a major airport, you may need to fly to Netaji Subhas Chandra Bose International Airport in Kolkata before continuing to Bagdogra. From Bagdogra, take a cab to Darjeeling.
By Train: The nearest railway station, New Jalpaiguri, connects the city to all of India's main cities. Trains to New Jalpaiguri frequently run from Delhi, Kolkata, Guwahati, Chennai, Mumbai, Bengaluru, and other destinations.
By Road: Regular bus services run from Siliguri to Darjeeling. Frequent bus services serve the route from the Tenzing Norgay Central Bus Terminus in Siliguri. A shared jeep is another option. Although speedier, the cost is sometimes double that of a bus.
The average cost (stay and meals) Is around Rs 1000-Rs 1500/day.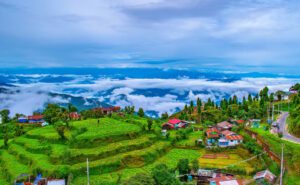 Kasol:
Kasol, a hamlet in Himachal Pradesh's picturesque Parvati Valley, is all about discovering nature and reconnecting with your senses. The area is well-known for its thrilling excursions and delectable cuisine. Kasol has a variety of treks for trekkers, including those to Kheer Ganga, Parvati Pass, Malana, Tosh, and others. A walk along the gushing Parvati River provides a stunning perspective of the Parvati Valley, flanked on both sides by dense woods. To observe cannabis plantations, go to the Tosh village at the extreme end of Parvati Valley. Unaffected by consumerism, the village's modest cafés provide a diverse selection of food, including various dishes from Israeli cuisine, due to the significant number of Israeli visitors that visit throughout the year.
Best time to visit – Throughout the year
Ideal duration – 2-3 days
How To Get There – 
By Air: The closest airport is Kullu Manali Airport, also known as Bhuntar Airport (31 km).
By Train: There is no railway station in Kasol. Joginder Nagar Railway Station is the nearest railway station (144km). Alternatively, you may travel to Chandigarh Railway Station (296 miles) and take a bus to Manali or book a taxi to Kasol for better rail connectivity.
By Road: There are no direct bus routes to Kasol. The best bet is to fly to Bhuntar or Chandigarh and then grab a taxi.
The average cost (stay and meals) –  Is around Rs 1000-Rs 1500/day.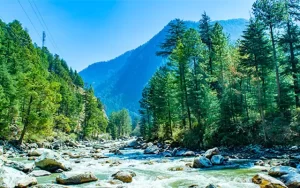 Wrapping Up:
So, where would you want to go first? Never stop traveling because traveling teaches us things that no one else can. Please let us know if you would want to add any more attractions to our list of "Budget friendly places to visit in India."